H1 food-oil with Precision Oil Pen in a kit
Product No.:

SOPOS1#25319

Immediately ready for shipping


Delivery time 1 - 3 days inside Germany (

further

)

for deliveries abroad to the EU, Switzerland (CH) or Luxembourg (LU) within 3 - 5 days
for all other foreign deliveries within 7 - 14 days

Sliding-scale prices
: from 20,78 EUR to 24,47 EUR
3 pcs
per 24,47 EUR
10 pcs
per 23,55 EUR
20 pcs
per 23,09 EUR
40 pcs
per 22,63 EUR
60 pcs
per 22,17 EUR
100 pcs
per 20,78 EUR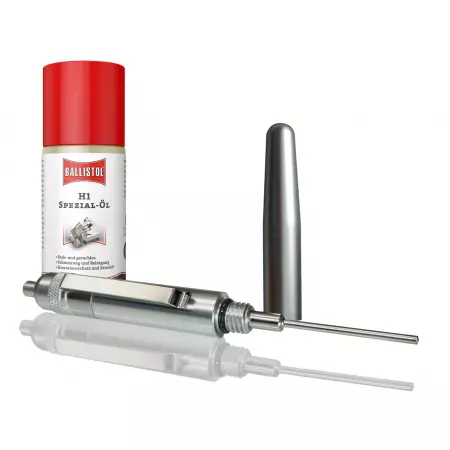 H1 food-oil with Precision Oil Pen in a kit
Apply H1 Food oil in the food industry and in gastronomy sparingly. Even if the oil can not cause any harm as in the case of Ballistol H1 food oil, is completely tasteless and odourless, it is useful to lubricate targeted. A clean and precise possibility is the Sommerhoff-Precision-Oil-Pen that you get here in a favourable complete kit with Ballistol H1 Food Oil.
Short Description Precision Oil Pen
The Sommerhoff-Precision-Oil-Pen is made of solid aluminum and dispense small quantities of oil finely dosed dropwise. With this Oil Pen you can reach smallest and deep hidden places effortlessly. The pen leaves the oil only exactly where you want it. All surrounding parts and areas remain free of oil.
Short description of H1 Food-Oil
H1 Food oil from Ballistol for the food sector and in households has the NSF H1 approval according the FDA (Food and Drug Administration) and is usable for the whole area of the food industry. Ballistol H1 is primarily suitable for food processing undertakings, e.g. in the beverage industry, drink, butchery, bakeries, etc. Ballistol H1 is colorless, odorless and tasteless, offers an effective rust protection for all machinery and equipment. Ballistol H1 is suited for cleaning as well as a lubricant or penetrating oil.

Further Information


Get to know Ballistol Universal Oil – proven since 1904.

Here you will find all all Oiler and Dispenser. Here we offer environmentally friendly alternatives to spray cans with propellant gas and also precision oil pens to dose your oil drop by drop.
H1 food-oil with Precision Oil Pen in a kit.
---