Ballistol Pump Sprayer
Manufacturer:

Ballistol

Immediately ready for shipping


Delivery time 1 - 3 days inside Germany (

further

)

for deliveries abroad to the EU, Switzerland (CH) or Luxembourg (LU) within 3 - 5 days
for all other foreign deliveries within 7 - 14 days
Sliding-scale prices
: from 4,66 EUR to 6,80 EUR
Sprühkopf einzeln
3
4,86 EUR
10
4,72 EUR
20
4,66 EUR
Sprühkopf mit Leerdose
3
6,80 EUR
10
6,61 EUR
20
6,51 EUR
Sprühkopf einzeln
4,99 EUR*


Product No.:

21352

Sprühkopf mit Leerdose
6,99 EUR*

Product No.: 21353 / EAN: 4017777213539
*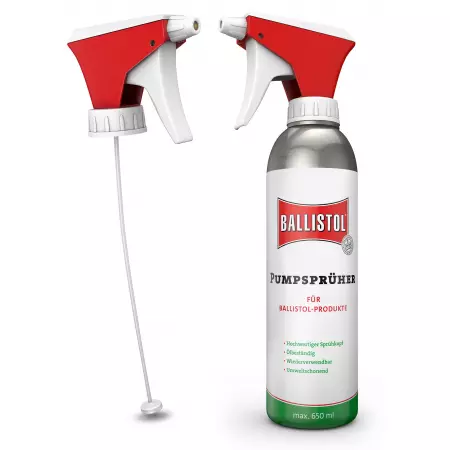 Pump Sprayer from Ballistol for atomizing of Ballistol Products
The Pump Sprayer is a convenient and environmentally friendly sprayer. With the pump sprayer you can atomize Ballistol Products almost finely as with traditional spray can. A special pump mechanic with a special jet hole makes it possible. The pump sprayer can be ordered with or without an empty can, into which you can fill the Ballistol-Products.
So the pump sprayer is an ecologically and economically optimized alternative to conventional sprays
Spray head for all 500 ml Ballistol-cans
Ballistol Pump-Sprayer for Ballistol Products
High-quality spray head
Oil resistant
Reusable
Environmentally friendly

Here you will find all oilers and dosers from precision oil pens to professional industrial oilers with atomizers as environmentally friendly alternatives to spray cans.

Pump Sprayer from Ballistol for atomizing of Ballistol Products.
---