Stainless Steel Wool
Product No.:

SORESW00

Immediately ready for shipping


Delivery time 1 - 3 days inside Germany (

further

)

for deliveries abroad to the EU, Switzerland (CH) or Luxembourg (LU) within 3 - 5 days
for all other foreign deliveries within 7 - 14 days

Sliding-scale prices
: from 2,12 EUR to 2,49 EUR
3 pcs
per 2,49 EUR
20 pcs
per 2,32 EUR
40 pcs
per 2,31 EUR
60 pcs
per 2,26 EUR
100 pcs
per 2,12 EUR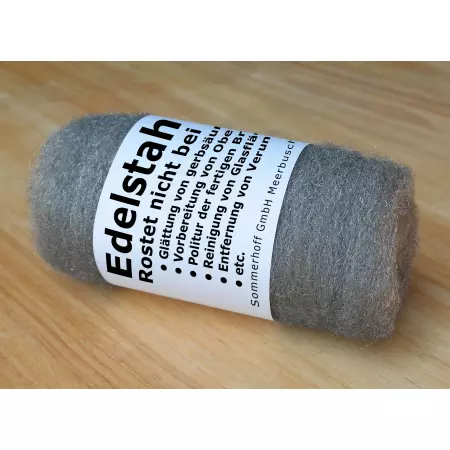 Stainless Steel Wool Extra Fine
The finest variety of stainless steel wool. Here you get premium quality stainless steel wool Made in Germany.
This particularly fine stainless steel wool is also suitable for working in damp environment where other fine steel wool can rust and is no longer suitable for work where it matters even to clean surfaces. The fineness "extra fine" for stainless steel wool corresponding with normal steel wool the fineness "00". There is no stainless steel wool, which is finer than this. Find all information on degrees of fineness grade of steel wool.
The extra-fine steel wool of stainless steel is particularly suitable for smoothing tannic acid containing woods such as oak, walnut or mahogany. With stainless steel wool is no risk to discolor the grain. The otherwise often observed "turning blue" of the grain remains off.


In addition to the processing of wood, the extra fine stainless steel wool is of course suitable for metal surfaces ‐ e.g. to prepare the surfaces for browning and to polish the finished browning before oiling.
Also for cleaning glass surfaces and mirrors, as well as to remove impurities on plastic and metal surfaces, the stainless steel wool is perfect. Therefore, for example, Shutters or aluminum window frames will be cleaned with this stainless steel wool. If you are working in a dry environment, you can use the fine and very fine steel wool.
Package: 1 pad (length ca. 13cm, diameter ca. 6cm).


Polish wood to high luster with extremely fine steel wool:

Did you know that with very fine steel wool in fineness degrees 0 to 0000 wood can polish gloss or even high gloss? Also for paint and finishes and intermediate sanding in the processing you get the best results with our quality steel wool.

Coarser grades of stainless steel wool
Coarser grades of stainless steel wool in the degrees of fineness fine, medium and coarse, we provide you on request.
---