Hidden safe can from Ballistol
Manufacturer:

Ballistol

Immediately ready for shipping


Delivery time 1 - 3 days inside Germany (

further

)

for deliveries abroad to the EU, Switzerland (CH) or Luxembourg (LU) within 3 - 5 days
for all other foreign deliveries within 7 - 14 days
Sliding-scale prices
: from 17,37 EUR to 21,24 EUR
Ballistol universal-oil
3
21,24 EUR
10
19,98 EUR
20
19,35 EUR
Usta workshop-oil
3
19,43 EUR
10
18,92 EUR
20
18,66 EUR
40
18,40 EUR
60
18,14 EUR
100
17,37 EUR
Stichfrei insect repellent
3
19,43 EUR
10
18,92 EUR
20
18,66 EUR
40
18,40 EUR
60
18,14 EUR
100
17,37 EUR
Ballistol universal-oil
22,50 EUR*


Product No.:

29066

/ EAN:

4017777290660

Usta workshop-oil
19,95 EUR*

Product No.: 29066-Usta

available soon

Stichfrei insect repellent
19,95 EUR*

Product No.: 29066-Stichfrei

available soon
*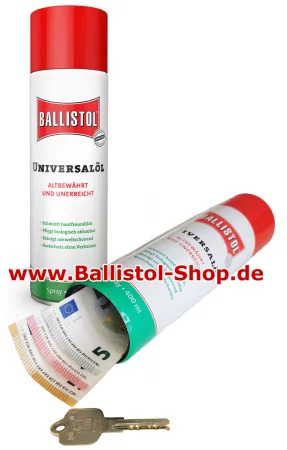 Hidden safe can from Ballistol
Diversion or Hidden Safes are unique security products. The Ballistol hidden safe is equipped with a removable bottom. Valuables can be discreetly stored inside these look-a-like containers and kept in their seemingly rightful places.
Each is undistinguishable from the genuine product and is even weighted to feel full. A largency occurs every four seconds. A burglary occurs every twelve seconds. Most burglars spend less than six minutes inside a victim's home and have only time to check the most obvious places for valuables. These safes allow you to hide valuables inside common household products ‐ the last place a thief would think to look.
You can hide your valuables when you are for example on holiday, in a hotel room, camping, in your car etc.
According to the police these units are better than a locked safe and much cheaper.

Here you find unusual Gift Ideas – all at a glance.


Further Information


Get to know Ballistol Universal Oil – proven since 1904.

Here you will find all Ballistol Fan Products
Hidden safe can from Ballistol
---