E-bike chain oil
Manufacturer:

Ballistol

Product No.:

28040

EAN:

4017777280401

Content: 65 ml

Immediately ready for shipping


Delivery time 1 - 3 days inside Germany (

further

)

for deliveries abroad to the EU, Switzerland (CH) or Luxembourg (LU) within 3 - 5 days
for all other foreign deliveries within 7 - 14 days
7,95 EUR
(Groundprice:

122,31 EUR per Liter

)


Sliding-scale prices
: from 7,32 EUR to 7,72 EUR
3 pcs
per 7,72 EUR
6 pcs
per 7,61 EUR
12 pcs
per 7,49 EUR
18 pcs
per 7,38 EUR
24 pcs
per 7,32 EUR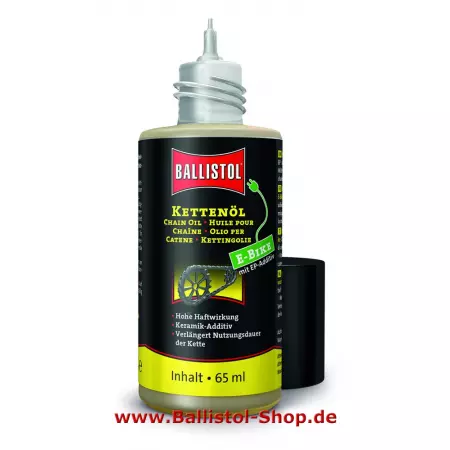 E-bike chain oil
The e-bike chain oil has been specially developed for use on e-bike chains. Ballistol E-Bike chain oil is extremely pressure-absorbent and can absorb the high tensile loads on the e-bike chain. The e-bike chain oil not only extends the life of the chain, but also the life of the e-bike battery. More mileage thanks to Ballistol e-bike chain oil.
Ballistol e-bike chain oil contains a highly effective EP additive Also a Adhesive additive is incorporated into this high-quality chain oil. Last but not least, Ballistol chain oil for e-bikes is equipped with a Ceramic additive.
This high-performance oil from Ballistol also has excellent creeping properties, high adhesive properties and the best lubricating performance. The chain oil provides long-lasting protection against rust and displaces moisture. So corrosion doesn't stand a chance.
The e-bike chain oil is also a first-class contact oil for all live connections.
The Ballistol e-bike chain oil contains neither PTFE nor acids and is completely resin-free.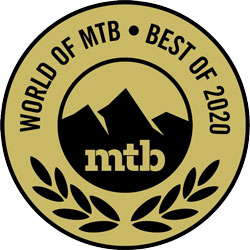 Ballistol's e-bike chain oil has been awarded the coveted "Best of" by World of MTB.
Content: 65 ml.
Kennzeichnung gemäß Verordnung (EG) Nr. 1272/2008 [CLP/GHS]


Signalwort: Achtung

Gefahrenhinweise für Gesundheitsgefahren

H315 Verursacht Hautreizungen.
H319 Verursacht schwere Augenreizung.
H412 Schädlich für Wasserorganismen, mit langfristiger Wirkung.

Sicherheitshinweise

Allgemeines

P102 Darf nicht in die Hände von Kindern gelangen.

Reaktion

P305 + P351 + P338 BEI KONTAKT MIT DEN AUGEN: Einige Minuten lang behutsam mit Wasser spülen. Eventuell vorhandene Kontaktlinsen nach Möglichkeit entfernen. Weiter spülen.

Entsorgung

P501 Inhalt/Behälter Recycling zuführen.
---