Wood Protection Oil Scherell Classic extra dark
Manufacturer:

Ballistol

Immediately ready for shipping


Delivery time 1 - 3 days inside Germany (

further

)

for deliveries abroad to the EU, Switzerland (CH) or Luxembourg (LU) within 3 - 5 days
for all other foreign deliveries within 7 - 14 days
Sliding-scale prices
: from 7,36 EUR to 243,79 EUR
50 ml with sponge
3
7,76 EUR
12
7,54 EUR
24
7,36 EUR
500 ml
3
34,00 EUR
6
33,52 EUR
12
33,05 EUR
18
32,57 EUR
24
32,32 EUR
5 liter
3
243,79 EUR
10
238,57 EUR
50 ml with sponge
7,99 EUR*


(Groundprice: 159,80 EUR pro Liter)

Product No.:

23817

/ EAN:

4017777238174

500 ml
34,95 EUR*


(Groundprice: 69,90 EUR pro Liter)

Product No.: 23834 / EAN: 4017777238341

5 liter
249,00 EUR*


(Groundprice: 49,80 EUR pro Liter)

Product No.: 23844 / EAN: 4017777238440
*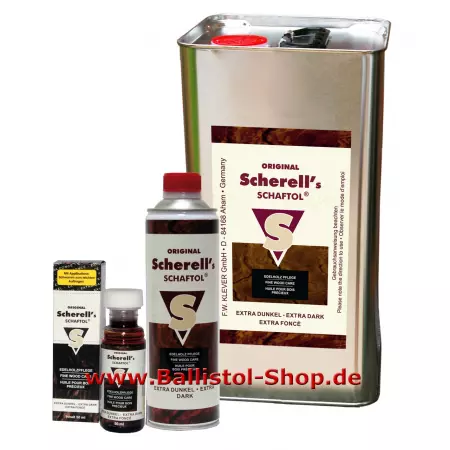 Schaftol wood protection oil extra dark from Scherell
Schaftol wood protection oil extra dark from Scherell for maintaining and protection of all naturally woods.
Naturally Wood needs regular care. Our top quality wood protection oil optimally conserves open pore wood, and thanks to the protection oil anti damp complex, protects it against weathering influences of all kind, particularly from becoming stained or mottled. Only a small amount of the wood protection oil is enough to achieve the required success. Scherell wood protection oil is only manufactured using high quality, pure, natural products according to an age old tradition and the latest techniques. Scherell wood protection oil is ideal for the treatment and the care of each naturally woods, such as furniture or antiques.
Schaftol Wood protection oil was created for one of the most demanding tasks of wood protection ‐ the protection and maintenance of gun stocks for hunting sport and is now the leading brand of stock oils.
Polish wood to high luster with extremely fine steel wool:

Did you know that with very fine steel wool in fineness degrees 0 to 0000 wood can polish gloss or even high gloss? Also for paint and finishes and intermediate sanding in the processing you get the best results with our quality steel wool. If you are working in a humid environment, a stainless steel wool is possibly of interest to you.

Schaftol wood protection Oil is available in the following sizes and colors:
50 ml bottle with sponge
75 ml bottle
500 ml tin
5 l canister
Colors:
Here you find all sorts and sizes of Scherell wood oils.

For best results use our Applicator for chemicals. No dripping, no inhomogeneous application.

Further Information


Get to know Ballistol Universal Oil – proven since 1904.

Here you will find all all Oiler and Dispenser. Here we offer environmentally friendly alternatives to spray cans with propellant gas and also precision oil pens to dose your oil drop by drop.
Schaftol extra dark wood protection oil from Scherell for maintaining and protection of all naturally woods.
---