Plastic Cleaner
Manufacturer:

Ballistol

Product No.:

23383

EAN:

4017777233834

Content: 150 ml

Immediately ready for shipping


Delivery time 1 - 3 days inside Germany (

further

)

for deliveries abroad to the EU, Switzerland (CH) or Luxembourg (LU) within 3 - 5 days
for all other foreign deliveries within 7 - 14 days
7,39 EUR
(Groundprice:

49,27 EUR per Liter

)


Sliding-scale prices
: from 6,80 EUR to 7,18 EUR
3 pcs
per 7,18 EUR
6 pcs
per 7,07 EUR
12 pcs
per 6,97 EUR
18 pcs
per 6,86 EUR
24 pcs
per 6,80 EUR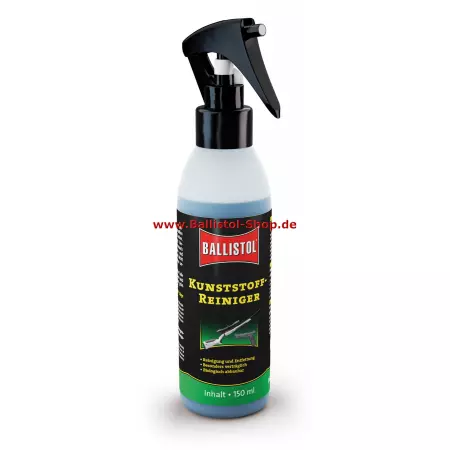 Plastic Cleaner
The Ballistol Plastic Cleaner was specially developed for powerful cleaning of plastic parts on weapons. All plastic weapon parts of long guns and handguns as well as weapon cases and bags can be quickly and effectively cleaned with the Ballistol Plastic Cleaner. The plastic cleaner removes even stubborn dirt, grease, soot, sweat and smoke as well as adhesive residues thoroughly.
Very good cleaning results even on light plastics. Also suitable for carbon surfaces and aluminum as well as anodized aluminum. On leather the plastic cleaner behaves neutrally. The plastic cleaner is gentle on materials and does not attack surfaces. Not suitable for unpainted wood surfaces.
The special mini pump sprayer can be locked so that it can not be mistakenly sprayed.
The Ballistol Plastic Cleaner is tested and recommended by Steyr Arms.
Further features of the plastic cleaner at a glance
Cleaning and degreasing
Especially compatible
Biodegradable
Application of the plastic cleaner for weapon parts
Briefly spray in the parts to be cleaned, allow to work in and thoroughly wipe off with Ballistol Microfibre Cloth and allow to dry.
Content: 150 ml pump spray.
Kennzeichnung gemäß Verordnung (EG) Nr. 1272/2008 [CLP/GHS]
Sicherheitshinweise

Allgemeines

P102 Darf nicht in die Hände von Kindern gelangen.

Reaktion

P305 + P351 + P338 BEI KONTAKT MIT DEN AUGEN: Einige Minuten lang behutsam mit Wasser spülen. Eventuell vorhandene Kontaktlinsen nach Möglichkeit entfernen. Weiter spülen.
P337 + P313 Bei anhaltender Augenreizung: Ärztlichen Rat einholen/Ärztliche Hilfe hinzuziehen.

Entsorgung

P501 Inhalt/Behälter Recycling zuführen.
---