Weapon Cleaning Instruments
Manufacturer:

Ballistol

Product No.:

22261

EAN:

4017777222616

Immediately ready for shipping


Delivery time 1 - 3 days inside Germany (

further

)

for deliveries abroad to the EU, Switzerland (CH) or Luxembourg (LU) within 3 - 5 days
for all other foreign deliveries within 7 - 14 days

Sliding-scale prices
: from 6,32 EUR to 6,61 EUR
3 pcs
per 6,61 EUR
10 pcs
per 6,42 EUR
20 pcs
per 6,32 EUR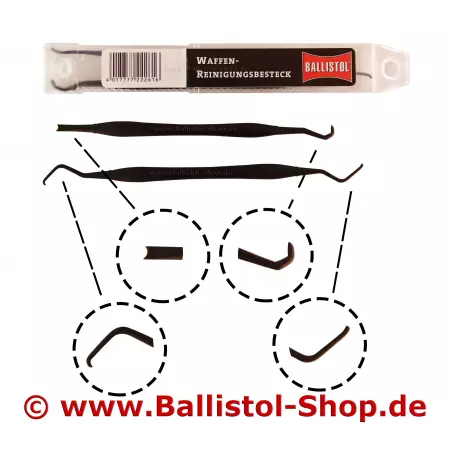 Weapon cleaning
The weapon-cleaning kit by the inventor of the gun oil is used for easy cleaning of the weapon mechanism such as lock and slides and all other hard to reach places.
The material of the weapon care instruments is a robust and slightly flexible plastic, which cleans without scratching even when working vigorously and can not damage the gun steel.
The kit of weapon-cleaning tools contains two instrumenst, each with two differently shaped ends, and a sturdy storage box for the weapon-cleaning instruments.
With the four differently shaped ends of the precision instruments, you can perform all fine work, cleaning and maintenance for the weapon perfectly.
Delivery Content
2 weapon cleaning instruments made of high-strength plastic
1 sturdy storage box

Universal weapon care cloth for all surfaces and all chemicals
The special fabric of the weapon care cloth is neutral to all surfaces and materials.

---