100 Nitrile gloves for cleaning and workshops
Immediately ready for shipping


Delivery time 1 - 3 days inside Germany (

further

)

for deliveries abroad to the EU, Switzerland (CH) or Luxembourg (LU) within 3 - 5 days
for all other foreign deliveries within 7 - 14 days
S
9,99 EUR*


Product No.:

81435

/ EAN:

4002911814352

M
9,99 EUR*

Product No.: 81436 / EAN: 4002911814369

L
9,99 EUR*

Product No.: 81437 / EAN: 4002911814376

XL
9,99 EUR*

Product No.: 81438 / EAN: 4002911814383
*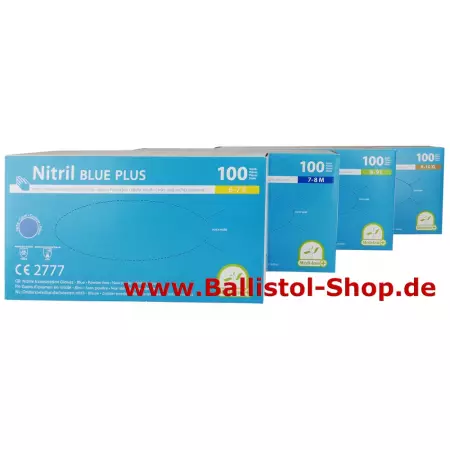 Nitrile gloves
This disposable nitrile gloves are suitable for for all work with cleaning agents and workshop chemicals.

Here you get 10 disposable gloves separate.
The main features at a glance:
Powder-free, non-sterile
Universal use for cleaning agents and in workshops
HACCP compliant in the food sector
Extremely tear-resistant
Latex-free
Free of thiurames and accelerators
Complies with Medizinproduktrichtlinien (medical directives) AQL 1.5
color: blue
Sizes
S (6-7)
M (7-8)
L (8-9)
XL (9-10)
These gloves of nitrile are more cut resistant, acid resistant and alkali resistant than latex or vinyl gloves. Furthermore, no allergic reaction are known. Therefore, the nitrile gloves are also ideal for latex allergics.
With these gloves you can use all of our oils, the technical sprays, the brownings and blueings and our barbecue cleaner and oven cleaner Kamofix safe and clean.

Further Information


Get to know Ballistol Universal Oil – proven since 1904.

Here you will find all all Oiler and Dispenser. Here we offer environmentally friendly alternatives to spray cans with propellant gas and also precision oil pens to dose your oil drop by drop.
Nitrile disposable gloves for all work with cleaning agents and workshop chemicals.
---