Ballistol H1 spray lube for food industry
Manufacturer:

Ballistol

Immediately ready for shipping


Delivery time 1 - 3 days inside Germany (

further

)

for deliveries abroad to the EU, Switzerland (CH) or Luxembourg (LU) within 3 - 5 days
for all other foreign deliveries within 7 - 14 days
Sliding-scale prices
: from 9,18 EUR to 15,52 EUR
200 ml spray
3
9,70 EUR
6
9,55 EUR
12
9,41 EUR
18
9,26 EUR
24
9,18 EUR
400 ml Spray
3
15,52 EUR
6
15,29 EUR
12
15,05 EUR
18
14,82 EUR
24
14,69 EUR
200 ml spray
9,99 EUR*


(Groundprice: 49,95 EUR pro Liter)

Product No.:

25310

/ EAN:

4017777253108

400 ml Spray
15,99 EUR*


(Groundprice: 39,98 EUR pro Liter)

Product No.: 25313 / EAN: 4017777253139
*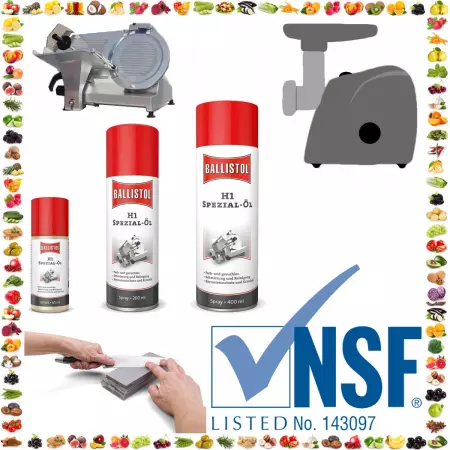 Ballistol H1 Spray for food business and household
Ballistol H1-Spray for the food sector and in households has the NSF H1 approval according the FDA (Food and Drug Administration) and is usable for the whole area of the food industry.
Ballistol Universal Oil is used In food processing undertakings for many years. For Ballistol Universal Oil exist a clearance certificate for this area. An NSF H1 registration does require because the manufacturer has to discloses the recipe, what with the secret recipe for Ballistol was of course not in question. Therefore Ballistol has developed the H1 lubricants Spray for the food industry and of course for every household with his years of experience in technical and pharmaceutical sector.
Ballistol H1 Spray is primarily suitable for food processing undertakings, e.g. in the beverage industry, drink, butchery, bakeries, etc. Even households who place value on a high-quality care of their domestic appliances use Ballistol H1. Ballistol H1 Spray is colorless, odorless and tasteless, offers an effective rust protection for all machinery and equipment. Ballistol H1 is suited for cleaning as well as a lubricant or penetrating oil.
Capacity 65 ml fluid or 200 ml spray.
Excerpt: safety declaration Ballistol H1 food oil
We hereby confirm that the components contained in Ballistol-H1 are safe according to §§ 30,31 Lebensmittel-, Bedarfsgegenstände- und Futtermittelgesetz (LFGB) as well as the regulation (EC) no. 1935/2004. The components contained in Ballistol-H1 according to regulation (EC) 2232/96 are listed and admitted in section 1.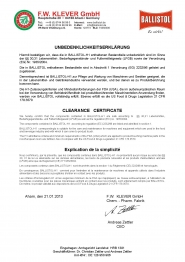 NSF registration certificate for Ballistol H1 food oil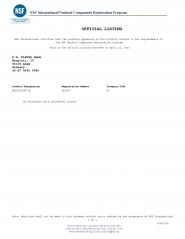 Kennzeichnung gemäß Verordnung (EG) Nr. 1272/2008 [CLP/GHS]


Signalwort: Gefahr

Gefahrenhinweise für Gesundheitsgefahren

H222 Extrem entzündbares Aerosol.
H229 Behälter steht unter Druck: Kann bei Erwärmung bersten.

Sicherheitshinweise

Allgemeines

P102 Darf nicht in die Hände von Kindern gelangen.

Prävention

P210 Von Hitze, heißen Oberflächen, Funken, offenen Flammen sowie anderen Zündquellenarten fernhalten. Nicht rauchen.
P211 Nicht gegen offene Flamme oder andere Zündquelle sprühen
P251 Nicht durchstechen oder verbrennen, auch nicht nach Gebrauch.

Reaktion

P370 + P378 Bei Brand: Wasser zum Löschen verwenden

Lagerung

P410 + P412 Vor Sonnenbestrahlung schützen. Nicht Temperaturen über 50 °C/122 °F aussetzen

Entsorgung

P501 Inhalt/Behälter Recycling zuführen.
---