PTFE Spray Ballistol Teflon Spray
Manufacturer:

Ballistol

Immediately ready for shipping


Delivery time 1 - 3 days inside Germany (

further

)

for deliveries abroad to the EU, Switzerland (CH) or Luxembourg (LU) within 3 - 5 days
for all other foreign deliveries within 7 - 14 days
Sliding-scale prices
: from 5,08 EUR to 9,19 EUR
200 ml
3
5,34 EUR
6
5,27 EUR
12
5,19 EUR
18
5,12 EUR
24
5,08 EUR
400 ml
3
9,19 EUR
6
9,05 EUR
12
8,92 EUR
18
8,79 EUR
24
8,72 EUR
200 ml
5,49 EUR*


(Groundprice: 27,45 EUR pro Liter)

Product No.:

25600

/ EAN:

4017777256000

400 ml
9,45 EUR*


(Groundprice: 23,63 EUR pro Liter)

Product No.: 25607 / EAN: 4017777256079
*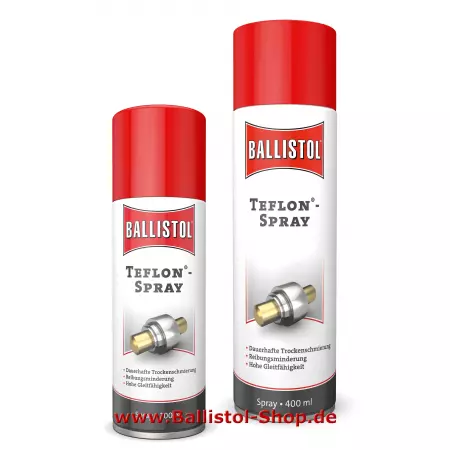 PTFE Spray better known as Teflon™ spray for dry lubrication and as an anti adhesive medium
PTFE Spray is a lubricant and anti adhesive medium for hygienically dry lubrication. For permanent lubricating for all materials like metal, plastics, wood, rubber etc. PTFE Spray is a nature sparing alternative to other lubricants like oil or silicone.
PTFE Spray is what you need and use if you want to provide short- or long-term lubrication and extra-smooth gliding activity and if hands dirty with oil are out of the question. The PTFE-particles will adhere to the surface even if there are microscopically tiny fissures and will secure gliding activity without a hitch. Successfully approved with small and large surfaces as well as for drastically reduce of friction and adhesion. Typical fields of use are trolleys, guide ways, cable winches, telescope guides as for instance car antennas, gearings, gearwheels and bearings made of all kinds of synthetic materials
The PTFE additive is known worldwide as "Teflon™". This is a registered trademark of the US DuPont company which is prohibited to use without authorization.
Here you will find more information about PTFE and the Teflon™ Story.

Further Information

Get to know Ballistol Universal Oil – proven since 1904.
This Impregnation spray keeps tight – even with textile fiber or synthetic fiber. Watch our video and see yourself what, Pluvonin is able to di in comparison with other impregnation sprays.


Silicone-Spray is e.g. able to lube plastic without oil and fat.


Assembly Spray facilitates assembly and disassembly and protects the surfaces.


Here you find all Oiler, dispenser and atomizer as an environmentally friendly alternatives to spray cans with propellant gas and also precision oil pens to dose your oil drop by drop.

PTFE Spray better known as Teflon™ spray for dry lubrication and as an anti adhesive medium.
Teflon™ is a trademark of The Chemours Company FC, LLC used under license by F.W. Klever GmbH.
Kennzeichnung gemäß Verordnung (EG) Nr. 1272/2008 [CLP/GHS]


Signalwort: Gefahr

Gefahrenhinweise für Gesundheitsgefahren

H222 Extrem entzündbares Aerosol.
H229 Behälter steht unter Druck: Kann bei Erwärmung bersten.

Sicherheitshinweise

Allgemeines

P102 Darf nicht in die Hände von Kindern gelangen.

Prävention

P210 Von Hitze, heißen Oberflächen, Funken, offenen Flammen sowie anderen Zündquellenarten fernhalten. Nicht rauchen.
P211 Nicht gegen offene Flamme oder andere Zündquelle sprühen
P251 Nicht durchstechen oder verbrennen, auch nicht nach Gebrauch.

Lagerung

P410 + P412 Vor Sonnenbestrahlung schützen. Nicht Temperaturen über 50 °C/122 °F aussetzen

Entsorgung

P501 Inhalt/Behälter Recycling zuführen.
---