Replacement Fiber Tip for Universal Care-Pen
Product No.:

441-1x3

Immediately ready for shipping


Delivery time 1 - 3 days inside Germany (

further

)

for deliveries abroad to the EU, Switzerland (CH) or Luxembourg (LU) within 3 - 5 days
for all other foreign deliveries within 7 - 14 days

Sliding-scale prices
: from 1,18 EUR to 1,40 EUR
3 pcs
per 1,40 EUR
10 pcs
per 1,35 EUR
20 pcs
per 1,32 EUR
40 pcs
per 1,28 EUR
60 pcs
per 1,24 EUR
100 pcs
per 1,18 EUR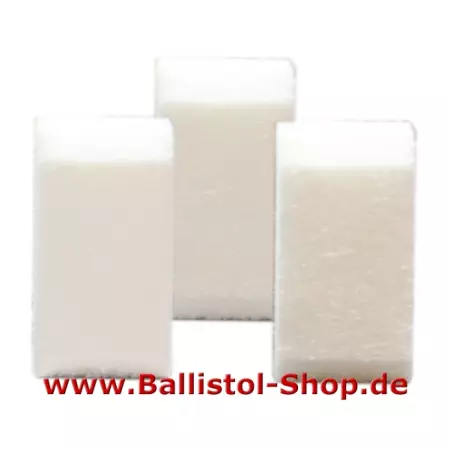 Three replacement tips for the big Universal Care Pen
With the broad felt tips you can apply Ballistol in tracks of either ca 3 mm, 6 mm or 15 mm width evenly and sparingly. If you move the pen on the felt edge, very fine tracks are possible too. The felts are very stable and dispense the oil in just the right amount without dripping. The replacement tips are helpful if you want to use different felt tips for clean and unclean surfaces.
Contents: 3 replacement tips.

Here you find the Universal Care Pen.


For precise oiling of hard accessible places, we offer our Oil pen of aluminum, which is equipped with long thin lance for subjacent areas.


Further Information


Get to know Ballistol Universal Oil – proven since 1904.

Here you will find all all Oiler and Dispenser. Here we offer environmentally friendly alternatives to spray cans with propellant gas and also precision oil pens to dose your oil drop by drop.
Three replacement tips for the big Universal Care Pen.
---