Usta Allround Workshop Oil 5 liter
Manufacturer:

Ballistol

Product No.:

22980

EAN:

4017777229806

Content: 5 Liter

Immediately ready for shipping


Delivery time 1 - 3 days inside Germany (

further

)

for deliveries abroad to the EU, Switzerland (CH) or Luxembourg (LU) within 3 - 5 days
for all other foreign deliveries within 7 - 14 days
89,95 EUR
(Groundprice:

17,99 EUR per Liter

)


Sliding-scale prices: anzeigen
3 pcs
per 87,62 EUR
10 pcs
per 85,30 EUR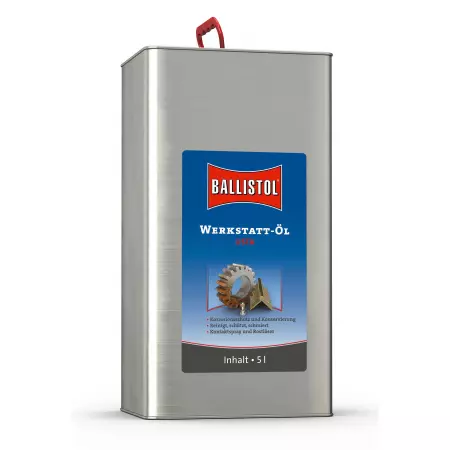 Usta workshop oil is a real all-round oil and multi tool:
Usta lubricates, looses rust, conserves, protects from corrosion and much more. The 500 ml tin is most popular size of our customers. As fluid Usta Workshop Oil is even more versatile applicable than a spray can. Whether to apply with a brush or for decant into an oiler. Fluid containers you get from 500 ml to 200 liter. We provide Usta fluid also in bundles with professionally oilers with atomizers, which can compensate spray cans with propellant gas complete.
The main properties at a glance
Corrosion protection
Conservation
Cleaning
Lubricating
Contact Spray
Rust dissolving
Description of Usta Workshop Oil:
Usta Workshop Oil keeps surfaces smooth, creeps into the smallest of gaps and cavities, removes water from metal surfaces, acts against damp, and neither gums nor sticks. It offers reliable and long-life rust protection. Usta Workshop Oil doesn't contain any silicone. Usta is a versatile, high quality and low-cost tool for almost every purpose. Usta Workshop Oil keeps everything that might creak, squeak or stick in good condition. Everything works as new and is protected and maintained.
Usta works on sticking boot locks, releases seized up screw threads and fits and provides all metal components with long term protection against corrosion. Usta Workshop Oil has also proven itself in use as chain oil for motorbikes. Ideal for the maintenance and care of engines and devices of all kinds. Usta Workshop Oil cares and protects winders, rollers, shafts, screw threads, cable and shiny metal against splashes of water and salty spray. Ideal for use in time for the winter.
Usta oil is an actively gliding oil, i.e. it penetrates even the tiniest fissures and reaches the remotest corners. It displaces water from metal surfaces, creeps under moisture, does not either resinify or become sticky. Usta is free from silicones.
Possible applications and fields of use of Usta Workshop Oil
Industry and Crafts:
Usta Workshop Oil is ideal for the maintenance and preservation of machines and all kinds of tools. It preserves reliably measuring instruments, moulds and punching machines. Usta is outstandingly suitable in the field of rust protection for ready-made and semi-finished steel or iron parts that are to be temporarily stored. It is traditionally applied for the preservation of goods transported by truck, by train or by ship.
Agriculture
Usta Oil maintains all kinds of machinery and tools used in the heavy-duty area of agriculture and forest culture ‐ maintenance, anti-corrosive and lubricant embodied in one oil. Superb for tractors, trailers and machines.
House and Gardening
Usta keeps anything in shape that might begin to creak, squeak, moan or lock. Be it doorlocks, hinges, bicycles or motorbikes. Anything treated with Usta remains working well, remains protected and maintained and will be like new for a long time. In gardening it is highly recommended for machines and tools.
Cars & Motoring
Using Usta means that there is no such thing as creaking hinges and joints. It helps you loosen jammed bootlocks, seized joints and fits, it prevents locks from freezing in winter, protects metal parts against corrosion for a very long period of time. In addition to this it is a well-tried chain oil for motorbikes.
Shipping
Usta maintains winches, capstans, reels, cylinders, screwed joints etc. and bare metal even when exposed to salty splashes and foams.
Usta Workshop Oil is available in the following Sizes
Usta Workshop Oil is available in the following Sizes:

Usta 5 liter fluid in a canister
Remove rust with steel wool without damaging surfaces:

All steel wool is not created equal. We offer here a fineness and quality with which you can polish even glass and mirror. For careful removing rust from surfaces of valuables things, fine steel wool is the best choice. If you are working in a humid environment, a stainless steel wool is possibly of interest to you.


Further Information


Get to know Ballistol Universal Oil – proven since 1904.

Here you will find all all Oiler and Dispenser. Here we offer environmentally friendly alternatives to spray cans with propellant gas and also precision oil pens to dose your oil drop by drop.
Usta Workshop Oil 5 liter in a canister lubricates, looses rust, conserved, protects from corrosion and much more. The 5 liter canister is an affordable alternative for all customers, who usually buy the 500 ml tin.
Kennzeichnung gemäß Verordnung (EG) Nr. 1272/2008 [CLP/GHS]


Signalwort: Gefahr

Gefahrenhinweise für Gesundheitsgefahren

H304 Kann bei Verschlucken und Eindringen in die Atemwege tödlich sein.
H412 Schädlich für Wasserorganismen, mit langfristiger Wirkung.

Sicherheitshinweise

Allgemeines

P102 Darf nicht in die Hände von Kindern gelangen.

Prävention

P273 Freisetzung in die Umwelt vermeiden.

Reaktion

P301 + P310 BEI VERSCHLUCKEN: Sofort GIFTINFORMATIONSZENTRUM/Arzt/... anrufen.
P331 KEIN Erbrechen herbeiführen.

Lagerung

P405 Unter Verschluss aufbewahren.
P412 Nicht Temperaturen von mehr als 50 °C aussetzen.

Entsorgung

P501 Inhalt/Behälter Recycling zuführen.
---