Ustanol Creep Oil, Penetrating Oil 200 ml Spray
Manufacturer:

Ballistol

Product No.:

22800

EAN:

4017777228007

Content: 200 ml

Immediately ready for shipping


Delivery time 1 - 3 days inside Germany (

further

)

for deliveries abroad to the EU, Switzerland (CH) or Luxembourg (LU) within 3 - 5 days
for all other foreign deliveries within 7 - 14 days
5,79 EUR
(Groundprice:

28,95 EUR per Liter

)


Sliding-scale prices
: from 5,33 EUR to 5,62 EUR
3 pcs
per 5,62 EUR
6 pcs
per 5,54 EUR
12 pcs
per 5,46 EUR
18 pcs
per 5,38 EUR
24 pcs
per 5,33 EUR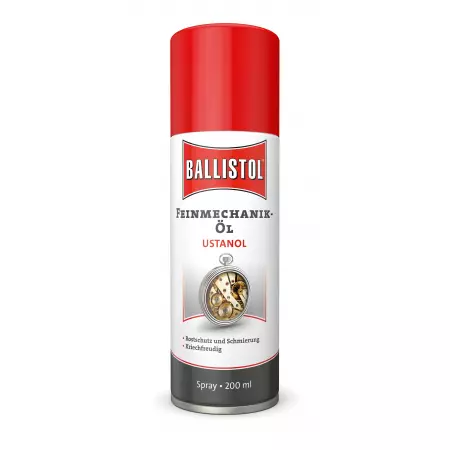 Ustanol penetrating oil 200 ml spray can
The neutral oil and penetrating oil Ustanol protects effectively from corrosion and is reliable for precision mechanics. The 200 ml spray can contains additionally compressed air as propellant
The most important properties of Ustanol neutral oil and penetrating oil at a glance:
Protects against rust
lubricates and loosens
For cleaning of surfaces
preserves all metals
Best creep oil
Environmentally friendly
neutral oil with a pleasant odor.
Ustanol neutral oil and penetrating oil has a very low viscosity and an equally low surface tension so that this very low-viscosity oil is enormous creep active and adheres strongly to metals. Ustanol neutral oil is suitable for maintenance, lubricating, and conservation of precise mechanical apparatus, precision instruments, machines and manufacturing equipment, tools, as well as workshop machines, any metal parts. If applied to metals, Ustanol penetrating oil is reliable to creep under water and by its low surface tension it is able to protect even the most inaccessible spot from rust. Ustanol is also proved as an excellent contact oil and it is resistant to aging and does not resinify. Ustanol creep oil guarantees the reliable operation from -50 ° C to 150 ° C, is free of solvents.
Environment:
As spray Ustanol contains additionally compressed air as propellant. Ustanol contains, in contrast to most other oil sprays no solvents.
In addition to the oil spray you get Ustanol as a liquid container. All sizes and types of fine oil at a glance can be found under fine mechanic oil.

Further Information


Here you will find all all Oiler and Dispenser. Here we offer environmentally friendly alternatives to spray cans with propellant gas and also precision oil pens to dose your oil drop by drop.
The neutral oil and penetrating oil Ustanol protects effectively from corrosion and is reliable for precision mechanics. The 200 ml spray can contains additionally filled with compressed air as propellant.
Kennzeichnung gemäß Verordnung (EG) Nr. 1272/2008 [CLP/GHS]


Signalwort: Gefahr

Gefahrenhinweise für Gesundheitsgefahren

H222 Extrem entzündbares Aerosol.
H229 Behälter steht unter Druck: Kann bei Erwärmung bersten.
H315 Verursacht Hautreizungen.
H335 Kann die Atemwege reizen.
H336 Kann Schläfrigkeit und Benommenheit verursachen.
H411 Giftig für Wasserorganismen, mit langfristiger Wirkung.

Sicherheitshinweise

Allgemeines

P102 Darf nicht in die Hände von Kindern gelangen.

Prävention

P210 Von Hitze, heißen Oberflächen, Funken, offenen Flammen sowie anderen Zündquellenarten fernhalten. Nicht rauchen.
P211 Nicht gegen offene Flamme oder andere Zündquelle sprühen
P251 Nicht durchstechen oder verbrennen, auch nicht nach Gebrauch.
P261 Einatmen von Staub/Rauch/Gas/Nebel/Dampf/Aerosol vermeiden.
P271 Nur im Freien oder in gut belüfteten Räumen verwenden.
P273 Freisetzung in die Umwelt vermeiden.

Reaktion

P301 + P330 + P331 BEI VERSCHLUCKEN: Mund ausspülen. KEIN Erbrechen herbeiführen.

Lagerung

P410 + P412 Vor Sonnenbestrahlung schützen. Nicht Temperaturen über 50 °C/122 °F aussetzen

Entsorgung

P501 Inhalt/Behälter Recycling zuführen.
---