Cylinder-Spray
Manufacturer:

Ballistol

Product No.:

25941

EAN:

4017777259414

Content: 50 ml

Immediately ready for shipping


Delivery time 1 - 3 days inside Germany (

further

)

for deliveries abroad to the EU, Switzerland (CH) or Luxembourg (LU) within 3 - 5 days
for all other foreign deliveries within 7 - 14 days
5,49 EUR
(Groundprice:

109,80 EUR per Liter

)


Sliding-scale prices
: from 5,06 EUR to 5,33 EUR
3 pcs
per 5,33 EUR
12 pcs
per 5,18 EUR
24 pcs
per 5,06 EUR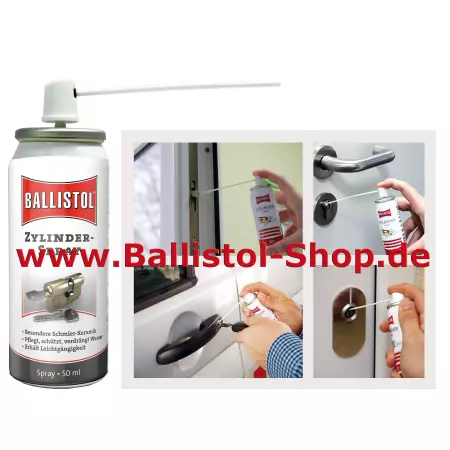 Cylinder lock spray
Contains ceramic parts
Especially for lubricating and cleaning all kinds of cylinder locks.
Caring, protecting and water displacing
Reduces friction, part remains smoothly operating
Reaches even the tightest gaps
No more squeaking and creaking
Displaces moisture and therefore also prevents icing up
Guarantees lifelong perfect function
Protects against corrosion and dissolves any existing corrosion

Further Information


Get to know Ballistol Universal Oil – proven since 1904.

Here you will find all all Oiler and Dispenser. Here we offer environmentally friendly alternatives to spray cans with propellant gas and also precision oil pens to dose your oil drop by drop.
Kennzeichnung gemäß Verordnung (EG) Nr. 1272/2008 [CLP/GHS]


Signalwort: Gefahr

Gefahrenhinweise für Gesundheitsgefahren

H222 Extrem entzündbares Aerosol.
H319 Verursacht schwere Augenreizung.

Sicherheitshinweise

Allgemeines

P102 Darf nicht in die Hände von Kindern gelangen.

Prävention

P210 Von Hitze, heißen Oberflächen, Funken, offenen Flammen sowie anderen Zündquellenarten fernhalten. Nicht rauchen.
P211 Nicht gegen offene Flamme oder andere Zündquelle sprühen
P251 Nicht durchstechen oder verbrennen, auch nicht nach Gebrauch.

Reaktion

P305 + P351 + P338 BEI KONTAKT MIT DEN AUGEN: Einige Minuten lang behutsam mit Wasser spülen. Eventuell vorhandene Kontaktlinsen nach Möglichkeit entfernen. Weiter spülen.
P337 + P313 Bei anhaltender Augenreizung: Ärztlichen Rat einholen/Ärztliche Hilfe hinzuziehen.

Lagerung

P410 + P412 Vor Sonnenbestrahlung schützen. Nicht Temperaturen über 50 °C/122 °F aussetzen

Entsorgung

P501 Inhalt/Behälter Recycling zuführen.
---