Gunex gun oil spray weapon oil
Manufacturer:

Ballistol

Immediately ready for shipping


Delivery time 1 - 3 days inside Germany (

further

)

for deliveries abroad to the EU, Switzerland (CH) or Luxembourg (LU) within 3 - 5 days
for all other foreign deliveries within 7 - 14 days
Sliding-scale prices
: from 4,06 EUR to 14,57 EUR
50 ml
3
4,27 EUR
12
4,15 EUR
24
4,06 EUR
200 ml
3
8,74 EUR
6
8,61 EUR
12
8,49 EUR
18
8,36 EUR
24
8,29 EUR
400 ml
3
14,57 EUR
6
14,35 EUR
12
14,14 EUR
18
13,93 EUR
24
13,82 EUR
50 ml
4,39 EUR*


(Groundprice: 87,80 EUR pro Liter)

Product No.:

22150

/ EAN:

4017777221503

200 ml
8,99 EUR*


(Groundprice: 44,95 EUR pro Liter)

Product No.: 22200 / EAN: 4017777222005

400 ml
14,99 EUR*


(Groundprice: 37,48 EUR pro Liter)

Product No.: 22250 / EAN: 4017777222500

available soon
*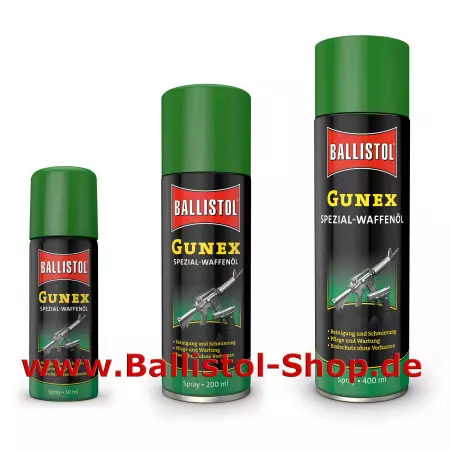 Gunex Gun Oil Spray
Gun Care with Gunex Gun Oil the proven Gun Oil from Ballistol.
Gunex Gun Oil Spray contains additively compressed air to safe the environment. Gunex is also available as liquid gun oil and in bundles with professional oiler with atomizers as an alternative to spray cans.
Gunex Gun Oil Spray is the perfect oil for the long-term preservation of bare metallic parts, even in extreme conditions (-50°C up to 100°C). Gunex Gun Oil Spray removes powder and tombac residues, ensures that the complete mechanisms of rifles, pistols and revolvers run smoothly, cares and protects. Resins of unsuitable oils are dissolved. Gunex Gun Oil creeps between metal and moisture, infiltrates hairline cracks, cleans, keeps surfaces smooth, does not get sticky or resinify either. Gunex oil spray is free from silicone.
Gunex Gun Oil performs perfect rust protection in all climate zones – including the tropics! With Gunex, everything stays protected against rust even in wet conditions. Also suitable for the care of fishing rods, telescopic pull-outs and barrels. Protects and cares for moving components, shiny metals, screw joints and traction systems, also against salty air and splash water and prevents from freeze. Gunex Gun Oil dissolves resin dirt and tar and protects metal and chrome parts from corrosion for a long term.
Gunex Gun Oil is also approved in industry, handicraft, and household.
Read more about the application possibilities of Gunex Spray in other fields.
Gunex is proved on DIN and is a brilliant creep oil.
Gunex gun oil spray is available in the following sizes and variations:

Further Information

Here you find all Gun oils at a glance


Here you find all chemical and manual barrel cleaner


Universal Gun care cloth for all surfaces and each chemial.
The spezial fabric of the gun care cloth is neutral against each surfaces and materials and extra absorbent.


Here you find all Products for gun care at a glance.


Get to know Ballistol Universal Oil – proven since 1904.

Oilers and Dispensers. Here we offer environmentally friendly alternatives to spray cans with propellant gas and also precision oil pens to dose your oil drop by drop.

Gunex Gun Oil Spray is the biggest spray container of our product range. We provide Gunex Gun Oil also as fluid from 50 ml to 200 liter and in sets with professional oilers.
Kennzeichnung gemäß Verordnung (EG) Nr. 1272/2008 [CLP/GHS]


Signalwort: Gefahr

Gefahrenhinweise für Gesundheitsgefahren

H222 Extrem entzündbares Aerosol.
H229 Behälter steht unter Druck: Kann bei Erwärmung bersten.
H412 Schädlich für Wasserorganismen, mit langfristiger Wirkung.

Sicherheitshinweise

Allgemeines

P102 Darf nicht in die Hände von Kindern gelangen.

Prävention

P210 Von Hitze, heißen Oberflächen, Funken, offenen Flammen sowie anderen Zündquellenarten fernhalten. Nicht rauchen.
P211 Nicht gegen offene Flamme oder andere Zündquelle sprühen
P251 Nicht durchstechen oder verbrennen, auch nicht nach Gebrauch.
P273 Freisetzung in die Umwelt vermeiden.

Lagerung

P410 + P412 Vor Sonnenbestrahlung schützen. Nicht Temperaturen über 50 °C/122 °F aussetzen

Entsorgung

P501 Inhalt/Behälter Recycling zuführen.
---