Bike Care Set
Manufacturer:

Ballistol

Product No.:

28130

EAN:

4017777281309

Immediately ready for shipping


Delivery time 1 - 3 days inside Germany (

further

)

for deliveries abroad to the EU, Switzerland (CH) or Luxembourg (LU) within 3 - 5 days
for all other foreign deliveries within 7 - 14 days

Sliding-scale prices: anzeigen
3 pcs
per 18,38 EUR
6 pcs
per 18,10 EUR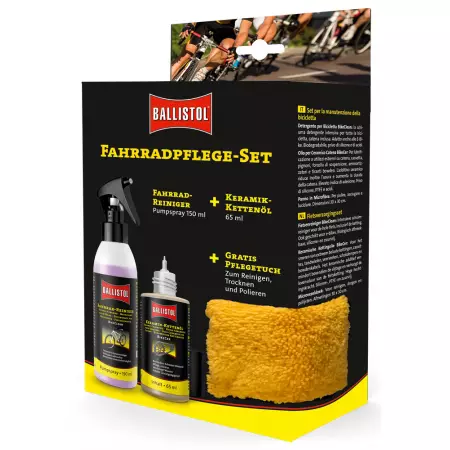 Ballistol bicycle cleaning set for professionals
The Ballistol bike care set contains the universal bicycle cleaner and the high-quality ceramic chain oil as well as a quality care cloth.
The Bike Care Set contains

Here you find all Bicycle-Care Products from Ballistol at a glance.

Bare metal from the bike with finest steel wool to a high gloss finish:

Steel wool is not only for rough work. But for cleaning and preparation of valuable and sensitive surfaces you need very fine grades of steel wool and a high quality, which is characterized among other things by the uniformity of the structure. Our steel wool Made in Germany with the highest degrees of fineness to 0000 creates not only a high cleaning performance but also a glossy or high gloss finish even on glass and mirrors. If you are working in a humid environment, a stainless steel wool is possibly of interest to you.

Ballistol bicycle care set with universal bicycle cleaner, high quality ceramic chain oil plus quality care cloth.
---