BikeClean Bicycle-Cleaner
Manufacturer:

Ballistol

Immediately ready for shipping


Delivery time 1 - 3 days inside Germany (

further

)

for deliveries abroad to the EU, Switzerland (CH) or Luxembourg (LU) within 3 - 5 days
for all other foreign deliveries within 7 - 14 days
Sliding-scale prices
: from 6,89 EUR to 57,51 EUR
150 ml
3
7,27 EUR
6
7,16 EUR
12
7,05 EUR
18
6,94 EUR
24
6,89 EUR
750 ml hand-atomizer
3
12,60 EUR
6
12,43 EUR
12
12,26 EUR
18
12,08 EUR
24
11,99 EUR
5 liter canister
3
57,51 EUR
10
56,02 EUR
150 ml
7,49 EUR*


(Groundprice: 49,93 EUR pro Liter)

Product No.:

28085

/ EAN:

4017777280852

750 ml hand-atomizer
12,95 EUR*


(Groundprice: 17,27 EUR pro Liter)

Product No.: 28160 / EAN: 4017777281606

5 liter canister
59,00 EUR*


(Groundprice: 11,80 EUR pro Liter)

Product No.: 28061 / EAN: 4017777280616
*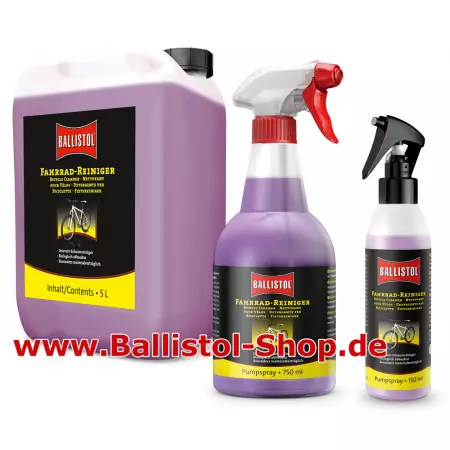 BikeClean Bicycle Cleaner
The Ballistol BikeClean Spray is an intensive foam cleaner for the thorough cleaning of the complete bicycle incl. chain and without any residue. Even thickest dirt (e.g. dried up residues from mud, dust, grease, oil etc.) in heavily accessible places is removed automatically, formation of new dirt layers is prevented. Due to the high compatibility it is well suited also to aluminium, chrome and anodized parts. The Bike Cleaner from Ballistol contains no silicone, acids nor hydrocarbons. The effective surfactants are completely biodegradable.

Here you find all Bicycle-Care Products from Ballistol at a glance.


Microfiber cloth for bike maintenance and bike cleaning
Our high-quality microfiber cloth is ideal for bicycle maintenance. It protects the surface and removes most stains without chemicals.

Bare metal from the bike with finest steel wool to a high gloss finish:

Steel wool is not only for rough work. But for cleaning and preparation of valuable and sensitive surfaces you need very fine grades of steel wool and a high quality, which is characterized among other things by the uniformity of the structure. Our steel wool Made in Germany with the highest degrees of fineness to 0000 creates not only a high cleaning performance but also a glossy or high gloss finish even on glass and mirrors. If you are working in a humid environment, a stainless steel wool is possibly of interest to you.

---