Ceramic Chain Oil
Manufacturer:

Ballistol

Immediately ready for shipping


Delivery time 1 - 3 days inside Germany (

further

)

for deliveries abroad to the EU, Switzerland (CH) or Luxembourg (LU) within 3 - 5 days
for all other foreign deliveries within 7 - 14 days
Sliding-scale prices
: from 5,06 EUR to 15,44 EUR
65 ml liquid
3
5,33 EUR
6
5,26 EUR
12
5,18 EUR
18
5,10 EUR
24
5,06 EUR
200 ml spray
3
15,44 EUR
6
15,21 EUR
12
14,98 EUR
18
14,74 EUR
24
14,62 EUR
65 ml liquid
5,49 EUR*


(Groundprice: 84,46 EUR pro Liter)

Product No.:

28050

/ EAN:

4017777280500

200 ml spray
15,90 EUR*


(Groundprice: 79,50 EUR pro Liter)

Product No.: 28059 / EAN: 4017777280593
*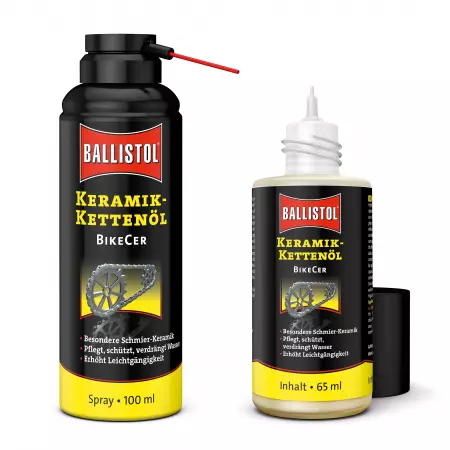 Ceramic Chain Oil BikeCer
BikeCer from Ballistol is a ceramic chain oil which is developed especially to provide lubrication for extreme requirements on the chain, cassette and gears but can also be used on suspension forks, damper pipes and Bowden cables. It is also perfect for e-bike chains. Thanks to its precise application, it considerably reduces friction, ensures your bike runs quietly, reduces wear-and-tear and increases the life span of your chain. It provides brilliant protection against corrosion, repels moisture and can be applied to even the tightest of spaces. the high level of adhesion extends the time between lubrications. Bikecer is water-resistant, highly penetrating and does not form resin.

Here you find all Bicycle-Care Products from Ballistol at a glance.


Microfiber cloth for bike maintenance and bike cleaning
Our high-quality microfiber cloth is ideal for bicycle maintenance. It protects the surface and removes most stains without chemicals.

Bare metal from the bike with finest steel wool to a high gloss finish:

Steel wool is not only for rough work. But for cleaning and preparation of valuable and sensitive surfaces you need very fine grades of steel wool and a high quality, which is characterized among other things by the uniformity of the structure. Our steel wool Made in Germany with the highest degrees of fineness to 0000 creates not only a high cleaning performance but also a glossy or high gloss finish even on glass and mirrors. If you are working in a humid environment, a stainless steel wool is possibly of interest to you.

Kennzeichnung gemäß Verordnung (EG) Nr. 1272/2008 [CLP/GHS]


Signalwort: Achtung

Gefahrenhinweise für Gesundheitsgefahren

H319 Verursacht schwere Augenreizung.

Sicherheitshinweise

Allgemeines

P101 Ist Ärztlicher Rat erforderlich, Verpackung oder Kennzeichnungsetikett bereithalten.
P102 Darf nicht in die Hände von Kindern gelangen.

Prävention

P280 Schutzhandschuhe/Schutzkleidung/Augenschutz/Gesichtsschutz tragen.

Reaktion

P305 + P351 + P338 BEI KONTAKT MIT DEN AUGEN: Einige Minuten lang behutsam mit Wasser spülen. Eventuell vorhandene Kontaktlinsen nach Möglichkeit entfernen. Weiter spülen.
P337 + P313 Bei anhaltender Augenreizung: Ärztlichen Rat einholen/Ärztliche Hilfe hinzuziehen.

Entsorgung

P501 Inhalt/Behälter Recycling zuführen.
---