Mairol Mediterranean fertilizer
Immediately ready for shipping


Delivery time 1 - 3 days inside Germany (

further

)

for deliveries abroad to the EU, Switzerland (CH) or Luxembourg (LU) within 3 - 5 days
for all other foreign deliveries within 7 - 14 days
Sliding-scale prices
: from 8,22 EUR to 10,65 EUR
500 ml
3
8,71 EUR
12
8,44 EUR
24
8,22 EUR
1000 ml
3
10,65 EUR
6
10,48 EUR
12
10,31 EUR
18
10,14 EUR
24
10,05 EUR
500 ml
8,99 EUR*


(Groundprice: 17,98 EUR pro Liter)

Product No.:

49060

/ EAN:

4009398900608

1000 ml
10,99 EUR*


(Groundprice: 10,99 EUR pro Liter)

Product No.: 49160 / EAN: 4009398901605
*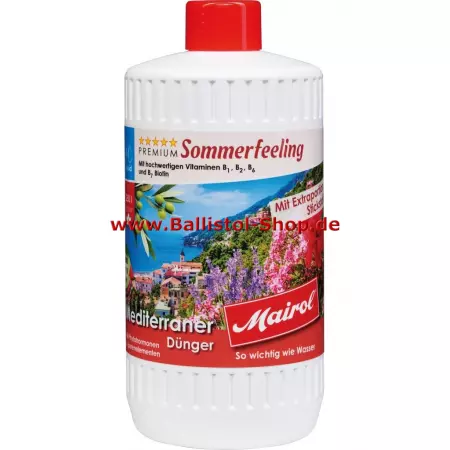 Mairol Mediterranean fertilizer
Mairol Sommerfeeling is specially adapted to the needs of Mediterranean plants in its nutrient composition. Meanwhile, Mediterranean plants are more and more common in the more northern regions. The gardens in Central Europe and the north now have the necessary climate for Mediterranean plants. However, the nutrients must been added with special fertilizers. The special liquid fertilizer for Mediterranean plants with immediate effect has a high nitrogen content for a healthy growth of all Mediterranean plants. The fertilizer promotes the formation of lush flowers and prevents by iron chelate and zinc the so-called chlorosis, the yellowing of the leaves. Particularly suitable is the fertilizer for Mediterranean and domestic plants with the same nutritional needs as: oleander, lavender, hibiscus, citrus, olive and fig trees, juniper and cypress.
The Mairol Quality Guarantee for Mediterranean Fertilizer
Mairol turbo-active effect: Selected chelated trace elements are immediately available to the plant.
High yield: 0.5 liter of Mediterranean fertilizer summer feeling is enough for 125 l irrigation water
NPK fertilizer 9 + 3.5 + 4
Suitable for foliar application
High quality selected raw materials
Especially for Mediterranean plants
Fertilizer recommendation and dosage for Mairol Mediterranean fertilizer Summer feeling
Fertilize Mediterranean plants from March to August once a week and twice a month in the remaining months.
Dosage: 4 ml of Mediterranean fertilizer to 1 liter of irrigation water.
Here you find all Mairol fertilizers.
---