Mairol hydrangea fertilizer
Immediately ready for shipping


Delivery time 1 - 3 days inside Germany (

further

)

for deliveries abroad to the EU, Switzerland (CH) or Luxembourg (LU) within 3 - 5 days
for all other foreign deliveries within 7 - 14 days
Sliding-scale prices
: from 8,22 EUR to 10,65 EUR
500 ml
3
8,71 EUR
12
8,44 EUR
24
8,22 EUR
1000 ml
3
10,65 EUR
6
10,48 EUR
12
10,31 EUR
18
10,14 EUR
24
10,05 EUR
500 ml
8,99 EUR*


(Groundprice: 17,98 EUR pro Liter)

Product No.:

49075

/ EAN:

4009398900752

1000 ml
10,99 EUR*


(Groundprice: 10,99 EUR pro Liter)

Product No.: 49175 / EAN: 4009398901759
*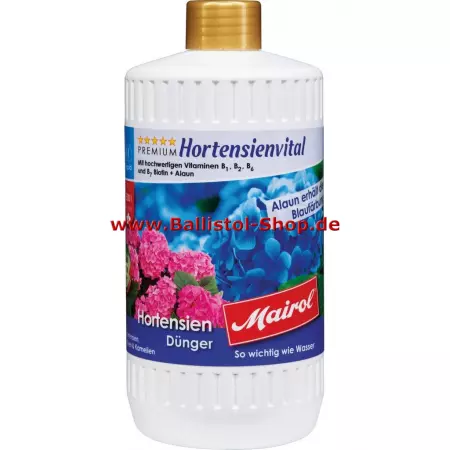 Mairol hydrangea fertilizer
Mairol Hydrangea Fertilizer is a mineral fertilizer for all hydrangeas and camellias. Perfectly adapted to the needs of hydrangeas nutrients with a special phosphate content and the addition of alum and iron chelate ensure healthy growth of the plants. A long-lasting bloom and rich leafy green of hydrangeas and camellias are the result. Mairol Hydrangea Vitalis is a hydrangea fertilizer that strengthens the plants and makes them resistant. The hydrangea vitalis is suitable for hydrangeas and camellias as well as for all moor-bed plants.
So hydrangeas feel good
You get the most beautiful hydrangea flowers by combining ideal location and Mairol hydrangea fertilizer. Hydrangeas prefer a location from sunny to partial shade. Some varieties are also preferred only in partial shade. A deep enough excavated loose bed with humus in a wind protected place completes the wellness program for the plants.
Hydrangea watering
Hydrangeas need a lot of water, but tolerate no waterlogging. Hydrangeas should often watered, even if the sun is not shining. Hanging flowers and leaves indicates a lack of water, which can damage the plant quickly and permanently. If the plant is already dry to the roots, the plant should immediately placed in a bucket of water. Hydrangeas in the field should generally floated. The soil must be such that waterlogging does not last long.
The Mairol Quality Guarantee for Hydrangea Fertilizer
Mairol turbo-active effect: Selected chelated trace elements are immediately available to the plant.
NPK fertilizer 10 + 3.5 + 4
High yield: 1 liter hydrangea fertilizer hydrangea vital for 500 l irrigation water
Suitable for foliar application
High quality selected raw materials
For hydrangeas, ericas & camellias
Fertilizer recommendation and dosage for Mairol hydrangea fertilizer
Fertilize hydrangeas from March to July once a week.
Dosage: 2 ml of hydrangea fertilizer per liter of irrigation water.
Here you find all Mairol fertilizers.
---