Mairol fruit fertilizer
Immediately ready for shipping


Delivery time 1 - 3 days inside Germany (

further

)

for deliveries abroad to the EU, Switzerland (CH) or Luxembourg (LU) within 3 - 5 days
for all other foreign deliveries within 7 - 14 days
Sliding-scale prices
: from 8,22 EUR to 10,65 EUR
500 ml
3
8,71 EUR
12
8,44 EUR
24
8,22 EUR
1000 ml
3
10,65 EUR
6
10,48 EUR
12
10,31 EUR
18
10,14 EUR
24
10,05 EUR
500 ml
8,99 EUR*


(Groundprice: 17,98 EUR pro Liter)

Product No.:

45152

/ EAN:

4009398501522

1000 ml
10,99 EUR*


(Groundprice: 10,99 EUR pro Liter)

Product No.: 45102 / EAN: 4009398501027
*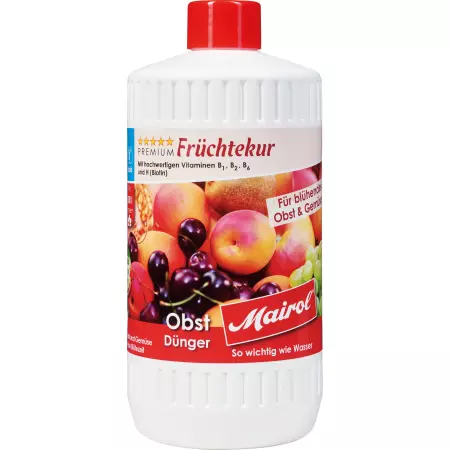 Mairol fruit fertilizer fruit cure
Mairol fruit cure strengthens the willingness to flower, the fruit formation and accelerates the maturity. Especially the formation of buds and fruit set is specifically supported.
By adding high-quality phosphates, potassium and important trace elements, especially iron, our fruit cure strengthens the plants, making them more resistant to disease and pest infestation.
In a natural way, our turbo-active effect ensures rapid absorption of all the important nutrients, so that the plant can exploit its full potential.
Our fruit fertilizer would absorbed quickly by the root system or foliar application.
The Mairol quality guarantee for fruit fertilizers
Mairol turbo-active effect: Selected chelated trace elements are immediately available to the plant.
With high-quality vitamins B1, B2, B6 and B7 biotin
For fruits and vegetables in the flowering season
For a profitable harvest
High yield: 1 liter of fruit fertilizer is sufficient for 500 l irrigation water
NPK fertilizer 5 + 7.3 + 8
Fertilizer recommendation and dosage for Mairol fruit fertilizer
Fertilize fruit and vegetable plants twice a week from March to September.
Dosage: 2 ml of fruit fertilizer to 1 liter of irrigation water.
Here you find all Mairol fertilizers.
Kennzeichnung gemäß Verordnung (EG) Nr. 1272/2008 [CLP/GHS]
Sicherheitshinweise

Prävention

P261 Einatmen von Staub/Rauch/Gas/Nebel/Dampf/Aerosol vermeiden.
P262 Nicht in die Augen, auf die Haut oder auf die Kleidung gelangen lassen.
---