Mairol yucca and palm fertilizer
Shipping time: Immediately
500 ml
6,81 EUR*


(Groundprice: 13,62 EUR € pro Liter)

Product No.:

49045

1000 ml
8,76 EUR*


(Groundprice: 8,76 EUR € pro Liter)

Product No.: 49145

*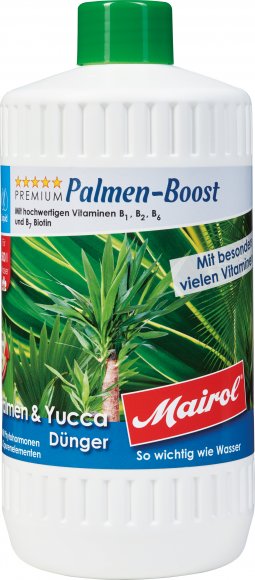 Mairol yucca and palm fertilizer palm boost
Mairol palm and yucca fertilizer is a special liquid fertilizer, whose slightly soluble nutrients will absorbed very quickly by palm plants.
The balanced combination of nitrogen, phosphorus and potassium provides strong, healthy growth and makes the palm more resistant to disease and pest infestation.
The Mairol quality guarantee for yucca and palm fertilizers
Mairol turbo-active effect: Selected chelated trace elements are immediately available to the plant.
With high-quality vitamins B1, B2, B6 and B7 biotin
With phytohormones & trace elements
For healthy growth and resilience
High yield: 1 liter of palm and yucca fertilizer is sufficient for 500 l irrigation water
NPK fertilizer 6 + 6 + 3.5
Tips for palm trees and yucca palms
Always keep the soil moist for palms
Avoid waterlogging.
Spray palm leaves regularly with lime-free water.
Fertilizer recommendation and dosage for Mairol palm and yucca fertilizer
In the main season, fertilize palm plants once a week from March to October.
In the resting phase you fertilize the palms only twice a month.
Dosage: 2 ml of palm fertilizer to 1 liter of irrigation water.
Here you find all Mairol fertilizers.
Kennzeichnung gemäß Verordnung (EG) Nr. 1272/2008 [CLP/GHS]
Sicherheitshinweise

Prävention

P261 Einatmen von Staub/Rauch/Gas/Nebel/Dampf/Aerosol vermeiden.
P262 Nicht in die Augen, auf die Haut oder auf die Kleidung gelangen lassen.
---