Mairol bamboo fertilizer
Immediately ready for shipping


Delivery time 1 - 3 days inside Germany (

further

)

for deliveries abroad to the EU, Switzerland (CH) or Luxembourg (LU) within 3 - 5 days
for all other foreign deliveries within 7 - 14 days
Sliding-scale prices
: from 7,31 EUR to 9,68 EUR
500 ml
3
7,74 EUR
12
7,50 EUR
24
7,31 EUR
1000 ml
3
9,68 EUR
6
9,53 EUR
12
9,37 EUR
18
9,22 EUR
24
9,14 EUR
500 ml
7,99 EUR*


(Groundprice: 15,98 EUR pro Liter)

Product No.:

49050

/ EAN:

4009398900509

1000 ml
9,99 EUR*


(Groundprice: 9,99 EUR pro Liter)

Product No.: 49150 / EAN: 4009398901506
*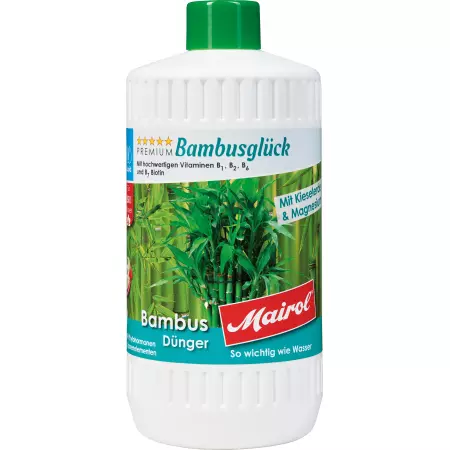 Mairol bamboo fertilizer
Mairol bamboo fertilizer is a liquid special fertilizer, which with its high nitrogen content ideally meets the special nutrient requirements of bamboo. Magnesium oxide provides rich leaf green, silicon for strengthening the stalks and healthy, vigorous plants.
This is how the bamboo feels good
Bamboo needs a bright location with high humidity. The bamboo should be protect from direct sunlight. The vessel in which you plant the bamboo should be three times as large as the root bale of the bamboo plant.
Watering bamboo
Water the bamboo regularly with lukewarm water. When the bamboo rolls up its leaves that is an alarm sign. Drought threatens the bamboo in this case. Cut out unsightly stalks.
The Mairol quality guarantee for bamboo fertilizer
Mairol turbo-active effect: Selected chelated trace elements are immediately available to the plant.
With high-quality vitamins B1, B2, B6 and B7 biotin
With phytohormones & trace elements
Covers the high nutritional requirements of bamboo
High yield: 1 liter of bamboo fertilizer is sufficient for 250 liters of irrigation water
NPK fertilizer 10 + 3.5 + 4
Mairol fertilizers are 100% biodegradable
Fertilizer recommendation and dosage for Mairol bamboo fertilizer
Fertilize twice a week from April to August.
Dosage: 4 ml of bamboo fertilizer to 1 liter of irrigation water.
Here you find all Mairol fertilizers.
---