Mairol Bonsai fertilizer
Immediately ready for shipping


Delivery time 1 - 3 days inside Germany (

further

)

for deliveries abroad to the EU, Switzerland (CH) or Luxembourg (LU) within 3 - 5 days
for all other foreign deliveries within 7 - 14 days
Sliding-scale prices
: from 8,22 EUR to 8,71 EUR
500 ml
3
8,71 EUR
12
8,44 EUR
24
8,22 EUR
500 ml
8,99 EUR*


(Groundprice: 17,98 EUR pro Liter)

Product No.:

49056

/ EAN:

4009398900561
*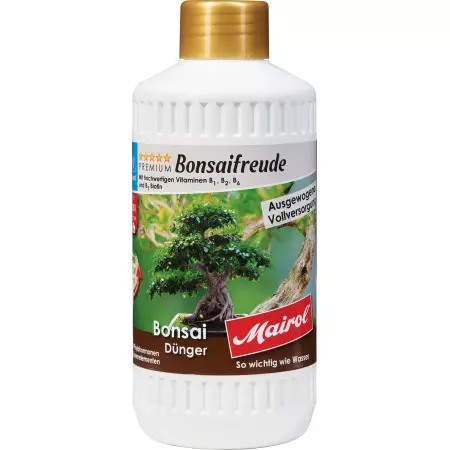 Mairol Bonsai fertilizer Bonsai fun
Mairol Bonsai Fertilizer, with its low-nitrogen base formula, is tailored to the specific growth conditions of sensitive bonsai trees.
The increased proportion of water-soluble phosphate and of potassium oxide contributes specifically to the strengthening of the tissue of the bonsai plants and thus increases the resistance of the bonsai.
Tips for bonsai trees
Bonsais generally prefer bright and warm places without direct sunlight. Room bonsais can also put outdoors in the summer.
Moisten the soil of the bonsai trees with a hand sprayer before pouring and then pour into batches with a special bonsai watering can, so that the soil will not washed away.
The Mairol quality guarantee for Bonsai fertilizers
Mairol turbo-active effect: Selected chelated trace elements are immediately available to the plant.
With high-quality vitamins B1, B2, B6 and B7 biotin
With phytohormones & trace elements
Balanced full sustenance
High yield: 0.5 liter Bonsai fertilizer is sufficient for 250 l irrigation water
NPK fertilizer 3 + 7 + 5
Fertilizer recommendation and dosage for Mairol Bonsai fertilizer
In the main season, fertilize bonsai plants once a week from May to October and once a month during off-peak times.
Dosage: 2 ml Bonsai fertilizer to 1 liter of irrigation water.
Here you find all Mairol fertilizers.
Kennzeichnung gemäß Verordnung (EG) Nr. 1272/2008 [CLP/GHS]
Sicherheitshinweise

Prävention

P261 Einatmen von Staub/Rauch/Gas/Nebel/Dampf/Aerosol vermeiden.
P262 Nicht in die Augen, auf die Haut oder auf die Kleidung gelangen lassen.
---