Mairol Hydroponic Fertilizer
Product No.:

49128

EAN:

4009398901285

Content: 1 Liter

Immediately ready for shipping


Delivery time 1 - 3 days inside Germany (

further

)

for deliveries abroad to the EU, Switzerland (CH) or Luxembourg (LU) within 3 - 5 days
for all other foreign deliveries within 7 - 14 days
10,99 EUR
(Groundprice:

10,99 EUR per Liter

)


Sliding-scale prices
: from 10,05 EUR to 10,65 EUR
3 pcs
per 10,65 EUR
6 pcs
per 10,48 EUR
12 pcs
per 10,31 EUR
18 pcs
per 10,14 EUR
24 pcs
per 10,05 EUR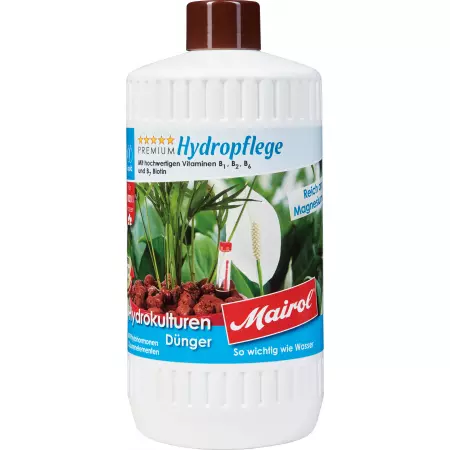 Mairol Hydroponic Fertilizer Hydro Care
Hydroponics have many advantages. However, the filling substrate does not provide nutrients. Therefore, hydroponic fertilization is vitally important to the plants. Mairol Hydroponic Fertilizer provides the plants with a balance of the nutrients and trace elements that each plant growing in the otherwise nutrient-free filling substrate needs for their healthy growth.
The targeted addition of magnesium oxide ensures rich leaf green, iron chelate effectively prevents the yellowing of leaves (chlorosis).
Tips for hydroponics
Hydroponic plants are best watered with lukewarm tap water.
The ideal temperature of irrigation water is between 22 and 26 °C. Because on "cold feet" hydroponic plants react particularly sensitive.
A water change is recommended every three to four months.
The Mairol quality guarantee for hydroponic fertilizers
Mairol turbo-active effect: Selected chelated trace elements are immediately available to the plant.
With high-quality vitamins B1, B2, B6 and B7 biotin
With phytohormones & trace elements
Suitable for foliar application
High yield: 1 liter of hydroponic fertilizer is sufficient for 1000 l irrigation water
NPK fertilizer 6 + 4.5 + 5
Fertilizer recommendation and dosage for Mairol hydroponic fertilizer
Fertilize hydroponics with every watering.
Dosage: 2 ml of hydroponic fertilizer to 2 liters of irrigation water.
Content: 1000 ml
Here you find all Mairol fertilizers.
Kennzeichnung gemäß Verordnung (EG) Nr. 1272/2008 [CLP/GHS]
Sicherheitshinweise

Prävention

P261 Einatmen von Staub/Rauch/Gas/Nebel/Dampf/Aerosol vermeiden.
P262 Nicht in die Augen, auf die Haut oder auf die Kleidung gelangen lassen.
---