Mairol orchid fertilizer
Immediately ready for shipping


Delivery time 1 - 3 days inside Germany (

further

)

for deliveries abroad to the EU, Switzerland (CH) or Luxembourg (LU) within 3 - 5 days
for all other foreign deliveries within 7 - 14 days
Sliding-scale prices
: from 8,22 EUR to 8,71 EUR
500 ml
3
8,71 EUR
12
8,44 EUR
24
8,22 EUR
250 ml
3,99 EUR*


(Groundprice: 15,96 EUR pro Liter)

Product No.:

49024

/ EAN:

4009398900240

500 ml
8,99 EUR*


(Groundprice: 17,98 EUR pro Liter)

Product No.: 49054 / EAN: 4009398900547
*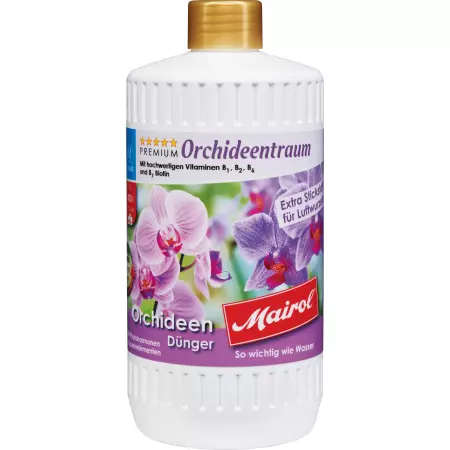 Mairol orchid fertilizer orchid dream
Mairol Orchid Fertilizer is a urea-free liquid fertilizer that is tailored to the specific needs of salt-sensitive, exotic orchids.
The balanced proportion of water-soluble phosphate provides lush and long-lasting flowers, potassium oxide gives the plants the necessary strength and resilience.
The Mairol quality guarantee for orchid fertilizer
Mairol turbo-active effect: Selected chelated trace elements are immediately available to the plant.
With high-quality vitamins B1, B2, B6 and B7 biotin
With phytohormones & trace elements
Suitable for foliar application
High yield: 0.5 liter of orchid fertilizer is sufficient for 200 l irrigation water
NPK fertilizer 8 + 4.5 + 2
Tips for orchids
Place orchids in a bright location. Protect the orchids from direct sunlight
Avoid waterlogging
Pour with lime-free water ‐ preferably with rainwater
Spray the leaves of the orchids regularly with water
Do not remove the aerial roots
Fertilizer recommendation and dosage for Mairol orchid fertilizer
Fertilize orchid plants twice a month during the main growing season from March to September.
In winter, fertilize the orchids only once a month.
Dosage: 2.5 ml of orchid fertilizer to 1 liter of irrigation water.
Here you find all Mairol fertilizers.
Kennzeichnung gemäß Verordnung (EG) Nr. 1272/2008 [CLP/GHS]
Sicherheitshinweise

Prävention

P261 Einatmen von Staub/Rauch/Gas/Nebel/Dampf/Aerosol vermeiden.
P262 Nicht in die Augen, auf die Haut oder auf die Kleidung gelangen lassen.
---