Mairol citrus fertilizer
Immediately ready for shipping


Delivery time 1 - 3 days inside Germany (

further

)

for deliveries abroad to the EU, Switzerland (CH) or Luxembourg (LU) within 3 - 5 days
for all other foreign deliveries within 7 - 14 days
Sliding-scale prices
: from 10,05 EUR to 10,65 EUR
1000 ml
3
10,65 EUR
6
10,48 EUR
12
10,31 EUR
18
10,14 EUR
24
10,05 EUR
1000 ml
10,99 EUR*


(Groundprice: 10,99 EUR pro Liter)

Product No.:

49151

/ EAN:

4009398901513
*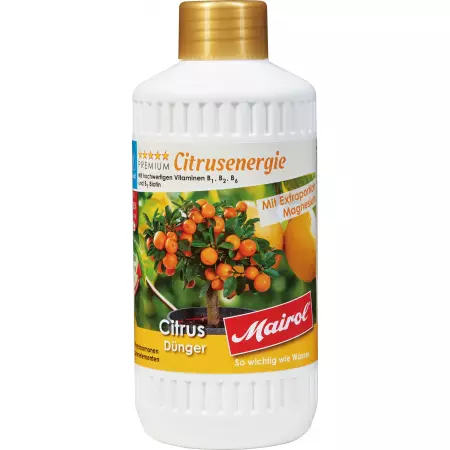 Mairol citrus fertilizer citrus energy
Mairol Citrus Fertilizer is specially adapted in its composition to the high nutritional requirements of Mediterranean citrus plants.
The citrus fertilizer ensures a uniform, healthy growth through its high nitrogen content, promotes the formation of magnificent and lush flowers and fruits and effectively prevents the yellowing of leaves (chlorosis) by the addition of iron chelate and zinc.
The Mairol Quality Guarantee for Citrus Fruit Fertilizer
Mairol turbo-active effect: Selected chelated trace elements are immediately available to the plant.
With high-quality vitamins B1, B2, B6 and B7 biotin
With phytohormones & trace elements
Adapted to the nutritional needs of Mediterranean plants and citrus plants
High yield: 0.5 liter of citrus fertilizer is sufficient for 125 liters of irrigation water
NPK fertilizer 9 + 3.5 + 4
Tips for citrus plants
Citrus plants love bright and sunny places.
In the open air south facing is ideal.
Always use slightly acid soil with a pH of 5.5 to 6 as plant substrate.
In the winter months, it is advisable to irradiate the citrus plant with an additional light source. In this way artificially extends the daytime phase, which is no longer ideal for the citrus plant further north of the equator.
Fertilizer recommendation and dosage for Mairol citrus fertilizer
In the main season of citrus plants, fertilize once a week from March to August.
In the resting phase of the citrus plants from September to February, you fertilize twice a month.
Dosage: 4 ml citrus fertilizer to 1 liter irrigation water.
Here you find all Mairol fertilizers.
Kennzeichnung gemäß Verordnung (EG) Nr. 1272/2008 [CLP/GHS]
Sicherheitshinweise

Prävention

P261 Einatmen von Staub/Rauch/Gas/Nebel/Dampf/Aerosol vermeiden.
P262 Nicht in die Augen, auf die Haut oder auf die Kleidung gelangen lassen.
---