Stainless steel care set
21,85 EUR

This article will be available again shortly.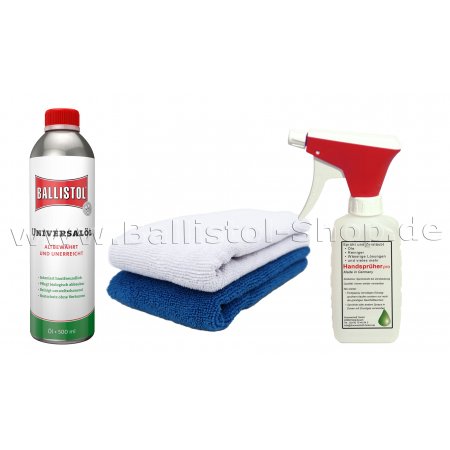 Stainless steel care set
Stainless steel should look good after the care and cleaning, and the effect should last a long time. A big problem here is the acidic fingerprints that are visible on stainless steel surfaces for a long time. This is just one of the specialties for Ballistol Universal oil. Ballistol is slightly alkaline and perfectly cleans stainless steel surfaces. After the treatment, no fingerprints are formed. Because of the special suitability for the stainless steel care you get here the stainless steel care set at a special price.
In addition to Ballistol, we also supply the environmentally friendly Hand Sprayer Pro, which atomizes oils almost as finely as classic spray cans. In addition, with this set you get two of our high-quality microfibre cloths, which are particularly suitable for combinations of cleaning and polishing due to the middle floor height. The blue cloth is intended for cleaning and the white cloth for polishing and as an indicator of the cleaning success.
The stainless steel care set contains
---