Ballistol Multi-Purpose Grease
Manufacturer:

Ballistol

Immediately ready for shipping


Delivery time 1 - 3 days inside Germany (

further

)

for deliveries abroad to the EU, Switzerland (CH) or Luxembourg (LU) within 3 - 5 days
for all other foreign deliveries within 7 - 14 days
Sliding-scale prices
: from 5,50 EUR to 73,05 EUR
1 kg
3
14,53 EUR
12
14,12 EUR
5 kg
3
73,05 EUR
10
71,15 EUR
400 g
3
5,81 EUR
12
5,64 EUR
24
5,50 EUR
1 kg
14,95 EUR*


(Groundprice: 14,95 EUR pro kg)

Product No.:

25351

/ EAN:

4017777253511

5 kg
74,95 EUR*


(Groundprice: 14,99 EUR pro kg)

Product No.: 25352 / EAN: 4017777253528

400 g
5,99 EUR*


(Groundprice: 14,98 EUR pro kg)

Product No.: 25350 / EAN: 4017777253504

available soon
*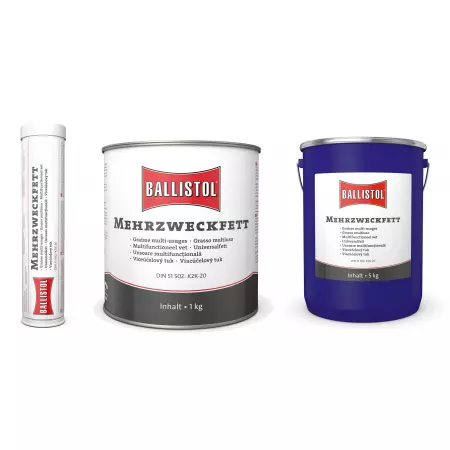 Ballistol Multi-Purpose Grease Universal Grease.
Ballistol univeral fat resp. multi-purpose grease is stable in a temperature range from -30° C to +120° C and is also characterized by a very good water resistance. Ballistol fat, providing reliable long-term lubrication and good sealing properties and easy pumpability in central lubrication systems.
Ballistol Multi-purpose grease is resistant in wet and dusty environments as well as in cold and hot water. In combination with its good adhesion and oxidation resistance it also protects in such problematic areas safe from corrosion.
Ballistol Multi-purpose grease reduces the friction and wear of all moving parts and has a high load carrying capacity. Ballistol fat is also aging resistant and drum stable and resistant to dust and water. The multi-purpose grease is silicone-free, resin-free and acid-free and therefore it does not resinify.
Typical areas of Ballistol fat are:
Car & Motorcycle
Plain shaft bearings
Construction and Agriculture
Lubrication and protection of industrial machinery
pharmaceutical production
Printing industry and paper industry
etc.
Here you find a fitted Grease Gun for Ballistol Multi Purpose Grease


The Grease Gun is also available in an affordable Kit with Ballistol Multi Purpose Grease.


Further Information


Get to know Ballistol Universal Oil – proven since 1904.

Here you will find all all Oiler and Dispenser. Here we offer environmentally friendly alternatives to spray cans with propellant gas and also precision oil pens to dose your oil drop by drop.
Ballistol Multi-Purpose Grease Universal Grease.
---