Balsin Gun Stock Oil reddish from Ballistol
Manufacturer:

Ballistol

Immediately ready for shipping


Delivery time 1 - 3 days inside Germany (

further

)

for deliveries abroad to the EU, Switzerland (CH) or Luxembourg (LU) within 3 - 5 days
for all other foreign deliveries within 7 - 14 days
Sliding-scale prices
: from 5,23 EUR to 234,03 EUR
50 ml
3
5,52 EUR
12
5,35 EUR
24
5,23 EUR
500 ml
3
27,14 EUR
6
26,73 EUR
12
26,33 EUR
18
25,92 EUR
24
25,70 EUR
5 liter
3
234,03 EUR
10
229,06 EUR
50 ml
5,69 EUR*


(Groundprice: 113,80 EUR pro Liter)

Product No.:

23060

/ EAN:

4017777230604

500 ml
27,95 EUR*


(Groundprice: 55,90 EUR pro Liter)

Product No.: 23070 / EAN: 4017777230703

5 liter
239,00 EUR*


(Groundprice: 47,80 EUR pro Liter)

Product No.: 23080 / EAN: 4017777230802
*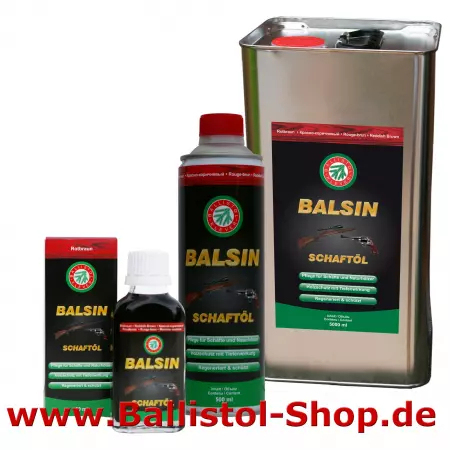 Balsin Gun Stock Oil reddish from Ballistol
Bright – Reddish – Brown – Dark Brown
Balsin Gun Stock Oil – brittle and weather-beaten wood becomes water-repellent and weatherproof again without losing its natural respiratory activity. Simultaneously, Balsin Gun Stock Oil regenerates and intensifies the veining of the wood and gives it a darker shade. Balsin Gun Stock Oil is ideal for rugged and decayed wooden stocks of all kinds – a must in the hands of the gunsmith and gun owner.
Balsin bright Gun Stock Oil provides even old, brittle and rugged wooden stocks with fine silky luster again. Protects against decay and fungus, intensifies the veining and endorses resistance and stability by means of a special silicone formula.
Polish stock wood only with the best steel wool:

Did you know that valuable stock woods can be polished glossy or high glossy with very fine steel wool? The processing of stock wood with fine steel wool leads to first class results. If you are working in a humid environment, a stainless steel wool is possibly of interest to you.

Balsin Gun Stock Oil is available in the following colors:
Balsin Schaftöl red brown

Further Information

Here you find all Gun oils at a glance


Here you find all chemical and manual barrel cleaner


Universal Gun care cloth for all surfaces and each chemial.
The spezial fabric of the gun care cloth is neutral against each surfaces and materials and extra absorbent.


Here you find all Products for gun care at a glance.


Get to know Ballistol Universal Oil – proven since 1904.

Oilers and Dispensers. Here we offer environmentally friendly alternatives to spray cans with propellant gas and also precision oil pens to dose your oil drop by drop.

Red brown Gun Stock Oil Balsin from Ballistol.
Kennzeichnung gemäß Verordnung (EG) Nr. 1272/2008 [CLP/GHS]


Signalwort: Gefahr

Gefahrenhinweise für Gesundheitsgefahren

H225 Flüssigkeit und Dampf leicht entzündbar

Sicherheitshinweise

Allgemeines

P102 Darf nicht in die Hände von Kindern gelangen.

Prävention

P210 Von Hitze, heißen Oberflächen, Funken, offenen Flammen sowie anderen Zündquellenarten fernhalten. Nicht rauchen.

Entsorgung

P501 Inhalt/Behälter Recycling zuführen.
---