1 liter Nerofor quick browning to dye of copper, brass and bronze
Manufacturer:

Ballistol

Product No.:

25900

EAN:

4017777259001

Content: 1 Liter
159,00 EUR
(Groundprice:

159,00 EUR per Liter

)


This article will be available again shortly.
Sliding-scale prices: anzeigen
3 pcs
per 155,61 EUR
10 pcs
per 152,22 EUR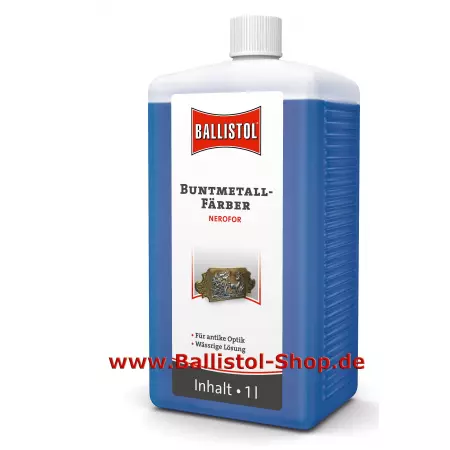 1 liter Nerofor quick browning to dye of copper, brass and bronze
With Nerofor from Klever you dye bronze, copper and brass in a few minutes. Nerofor Quick-Browning creates an abrasion-resistant and spotless color.
Here you find Browning for iron and steel.
Copper and brass becomes depending on the exposure time brown resp. dark brown.
Through the use of Ballistol Universal oil the surfaces becomes matt-finished brightness.
Application:
The metals must be defatted before the application of Nerofor. Therefore use at best Robla Cold Degreaser. For the application of Nerofor quick browning use a Applikator at best. Smaller and especially filigree metal parts are dipped better. Already after one to two minutes exposure time, the metal can be treated thoroughly rinsed off with water. Now you must only dry the bronze, copper or brass with a soft cotton cloth. To create a matte sheen, the metal can now be spayed or oiled with Ballistol universal oil. Surplus oil should be absorbent with a cloth. Done.
Very fine steel wool ensures perfect browning results:

In preparation of the metal for the bluing you should use very fine steel wool with fineness degree 00. Also for oiling a new bluing this steel wool is the first choice. If you are working in a humid environment, a stainless steel wool is possibly of interest to you.


For best bluing results use our Applicator for bluings. No dripping, no inhomogeneous application.

Here you will find for the clean work with browning disposable gloves of nitrile, which we also offer in small quantities as from 10 Pieces.

Further Information


Get to know Ballistol Universal Oil – proven since 1904.

Here you will find all all Oiler and Dispenser. Here we offer environmentally friendly alternatives to spray cans with propellant gas and also precision oil pens to dose your oil drop by drop.
With Nerofor from Klever you dye bronze, copper and brass in a few minutes. Nerofor Quick-Browning creates an abrasion-resistant and spotless color.
Kennzeichnung gemäß Verordnung (EG) Nr. 1272/2008 [CLP/GHS]


Signalwort: Achtung

Gefahrenhinweise für Gesundheitsgefahren

H290 Kann gegenüber Metallen korrosiv sein.
H302 Gesundheitsschädlich bei Verschlucken.
H315 Verursacht Hautreizungen.
H319 Verursacht schwere Augenreizung.
H411 Giftig für Wasserorganismen, mit langfristiger Wirkung.

Sicherheitshinweise

Allgemeines

P101 Ist Ärztlicher Rat erforderlich, Verpackung oder Kennzeichnungsetikett bereithalten.
P102 Darf nicht in die Hände von Kindern gelangen.

Prävention

P234 Nur im Originalbehälter aufbewahren.
P270 Bei Gebrauch nicht essen, trinken oder rauchen.
P273 Freisetzung in die Umwelt vermeiden.
P280 Schutzhandschuhe/Schutzkleidung/Augenschutz/Gesichtsschutz tragen.

Reaktion

P301 + P312 BEI VERSCHLUCKEN: Bei Unwohlsein GIFTINFORMATIONSZENTRUM/Arzt/... anrufen.
P302 + P352 BEI BERÜHRUNG MIT DER HAUT: Mit viel Wasser/... waschen.
P305 + P351 + P338 BEI KONTAKT MIT DEN AUGEN: Einige Minuten lang behutsam mit Wasser spülen. Eventuell vorhandene Kontaktlinsen nach Möglichkeit entfernen. Weiter spülen.
P337 + P313 Bei anhaltender Augenreizung: Ärztlichen Rat einholen/Ärztliche Hilfe hinzuziehen.
P362 Kontaminierte Kleidung ausziehen.
P390 Verschüttete Mengen aufnehmen, um Materialschäden zu vermeiden.

Lagerung

P405 Unter Verschluss aufbewahren.

Entsorgung

P501 Inhalt/Behälter Recycling zuführen.
---