Ballistol Varioflex 350 ml spray mit flexible spray tube
Manufacturer:

Ballistol

Product No.:

21727

EAN:

4017777217278

Content: 350 ml

Immediately ready for shipping


Delivery time 1 - 3 days inside Germany (

further

)

for deliveries abroad to the EU, Switzerland (CH) or Luxembourg (LU) within 3 - 5 days
for all other foreign deliveries within 7 - 14 days
12,95 EUR
(Groundprice:

37,00 EUR per Liter

)


Sliding-scale prices
: from 11,99 EUR to 12,60 EUR
3 pcs
per 12,60 EUR
12 pcs
per 12,26 EUR
24 pcs
per 11,99 EUR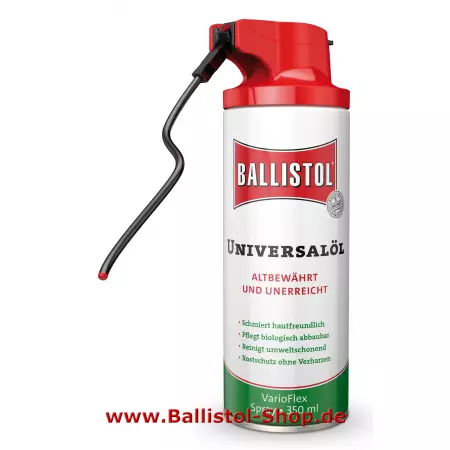 Ballistol VarioFlex
VarioFlex is the innovative spray head model from Ballistol. VarioFlex impresses with its flexibility and ease of use. Many oil spray cans have a spray head that ejects a spray. Some are additionally equipped with a rigid spray pipe. Ballistol thought "around the corner" here. The VarioFlex has a flexible spray hose that can be bent and adjusted individually. This is how you reach every place that is otherwise inaccessible. The VarioFlex sprays precisely and can be finely dosed.
If a larger area needs to be sprayed, the flexible spray hose is easy to fold down and the well-known, fine spray mist can be applied. A powerful solution with simple dual use, easy handling and a variety of applications.
VarioFlex can be used on all Ballistol spray cans. Simply remove from the used can, put it on a new one and fix it with a short and strong blow from above. It is ready for action again.
VarioFlex makes it easier than ever to switch from area spray to spot stream. With a short hand grip, fold the capillary tube down and a uniform spray pattern covers surfaces with universal oil. Just as quickly, the spray head is switched to spot stream to set single spot.
The large release surface facilitates dosing, even with gloves. Precise, as much as necessary and still the proven Ballistol effect.
Content: 350ml Ballistol universal oil spray with VarioFlex spray head.
Kennzeichnung gemäß Verordnung (EG) Nr. 1272/2008 [CLP/GHS]


Signalwort: Gefahr

Gefahrenhinweise für Gesundheitsgefahren

H222 Extrem entzündbares Aerosol.
H229 Behälter steht unter Druck: Kann bei Erwärmung bersten.

Sicherheitshinweise

Allgemeines

P102 Darf nicht in die Hände von Kindern gelangen.

Prävention

P210 Von Hitze, heißen Oberflächen, Funken, offenen Flammen sowie anderen Zündquellenarten fernhalten. Nicht rauchen.
P211 Nicht gegen offene Flamme oder andere Zündquelle sprühen
P251 Nicht durchstechen oder verbrennen, auch nicht nach Gebrauch.

Reaktion

P370 + P378 Bei Brand: Wasser zum Löschen verwenden

Lagerung

P410 + P412 Vor Sonnenbestrahlung schützen. Nicht Temperaturen über 50 °C/122 °F aussetzen

Entsorgung

P501 Inhalt/Behälter Recycling zuführen.
---