Honing Oil blade sharpening grinding oil
Manufacturer:

Ballistol

Product No.:

23910

EAN:

4017777239102

Content: 65 ml

Immediately ready for shipping


Delivery time 1 - 3 days inside Germany (

further

)

for deliveries abroad to the EU, Switzerland (CH) or Luxembourg (LU) within 3 - 5 days
for all other foreign deliveries within 7 - 14 days
4,49 EUR
(Groundprice:

69,08 EUR per Liter

)


Sliding-scale prices
: from 4,14 EUR to 4,36 EUR
3 pcs
per 4,36 EUR
6 pcs
per 4,30 EUR
12 pcs
per 4,24 EUR
18 pcs
per 4,18 EUR
24 pcs
per 4,14 EUR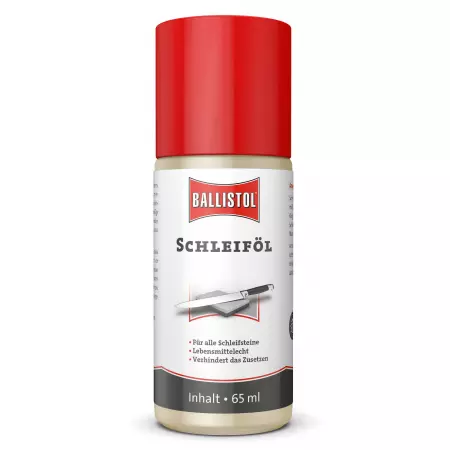 Grinding oil for knives and all blades sharpening oil
Our grinding oil is suitable for all sharpening stones with which knives and blades are sharpened. The grinding oil can also be used for ceramic grinding stones. The sharpening oil is food safe and does not set the whetstone. For coarser grits for pre-sanding as well as for fine-grained peelstones like Arkansas stone, Washita stone, Mississippi stone etc. Ballistol sanding oil is perfect.
Ballistol grinding oil extends the life of grinding stones. The grinding oil has a strong cleaning performance and increases the erosion when sheep blades. At the same time our grinding oil binds the steel abrasion of the blade and the stone abrasion and promotes the smooth grinding movement. Grinding noises are also significantly damped. The grinding oil also ensures a cooling of the grinding edge of the knife blade and prevents clogging of the grinding stone.
Properties of the grinding oil:
Food safe
odourless
Tasteless
acid-free
Protects against rust
Does not catch
Neutral to paint, metal, wood, rubber and plastic
Suitable for stainless steels
Brass and other non-ferrous metals are not attacked
Instructions Use grinding oil
For sharpening apply Ballistol grinding oil evenly and spread it with the blade.
Sharpen your knife or blade as usual on the whetstone.
After sanding it is best to dab the residues of metal and oil with a microfiber cloth.
Then clean the stone with some fresh grinding oil and wipe off excess oil.
Content: 65 ml.
---