Silicone oil for gun care
Manufacturer:

Ballistol

Product No.:

23807

EAN:

4017777238075

Content: 65 ml

Immediately ready for shipping


Delivery time 1 - 3 days inside Germany (

further

)

for deliveries abroad to the EU, Switzerland (CH) or Luxembourg (LU) within 3 - 5 days
for all other foreign deliveries within 7 - 14 days
4,49 EUR
(Groundprice:

69,08 EUR per Liter

)


Sliding-scale prices
: from 4,14 EUR to 4,36 EUR
3 pcs
per 4,36 EUR
6 pcs
per 4,30 EUR
12 pcs
per 4,24 EUR
18 pcs
per 4,18 EUR
24 pcs
per 4,14 EUR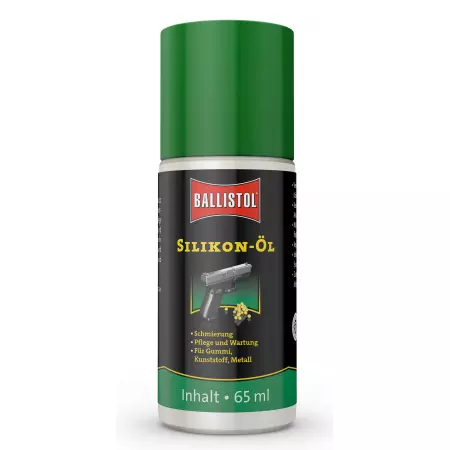 Silicone oil for gun care
Silicone oil is ideal for gun care. Parts made of rubber, plastic and metal can be protected and lubricated with silicone oil. Due to the high surface adhesion of silicone oil, the oil film remains for very long time. Silicone oil is therefore also ideal for the care and maintenance of CO2 guns and airsoft guns. Plastics obtained by the very economical treatment with silicone oil get back their natural appearance, prevents of drying out and embrittlement.
Content: 65 ml
The main features and advantages of Gun Silicone Oil at a glance:
Prevents trouble while reloading
Accelerates airsoft bullets
Conserves the elasticity of plastic parts
Reduces friction
Ideal for blowback systems
Reliable at low temperatures
What silicone oil can more?
Silicone oil is an incredibly versatile and at the same time chemically inactive liquid tool with a very wide range of applications. Here we have given a brief overview of the possibilities especially in gun care. Here you find all information about silicone oil. Incidentally, there is silicone oil in spray form. Silicone Spray offers an advantage when you want to applicate a uniform silicone film on the surface.
---