Mairol flower fertilizer crystal
Immediately ready for shipping


Delivery time 1 - 3 days inside Germany (

further

)

for deliveries abroad to the EU, Switzerland (CH) or Luxembourg (LU) within 3 - 5 days
for all other foreign deliveries within 7 - 14 days
Sliding-scale prices
: from 13,71 EUR to 106,58 EUR
1000g
3
14,53 EUR
6
14,30 EUR
18
13,84 EUR
24
13,71 EUR
3000g
3
28,01 EUR
6
27,56 EUR
12
27,12 EUR
18
26,67 EUR
24
26,44 EUR
25 kg
3
106,58 EUR
6
105,37 EUR
10
104,16 EUR
1000g
14,99 EUR*


(Groundprice: 14,99 EUR pro kg)

Product No.:

43121

/ EAN:

4009398301214

3000g
28,90 EUR*


(Groundprice: 9,63 EUR pro kg)

Product No.: 43300 / EAN: 4009398303003

25 kg
109,00 EUR*


(Groundprice: 4,36 EUR pro kg)

Product No.: 43250 / EAN: 4009398302501

available soon
*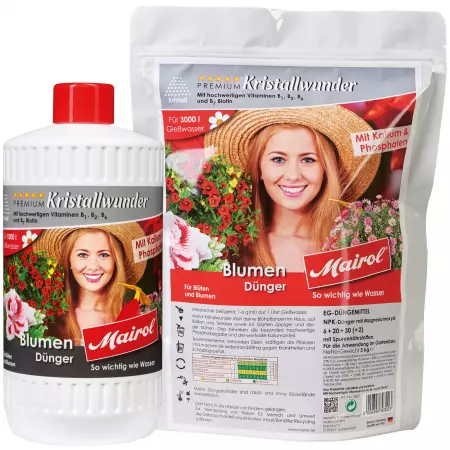 Mairol flower fertilizer crystal wonder
Mairol flower fertilizer was been specially developed for the blossom time. All flowering plants in the house, on the balcony, on the terrace and in the garden will blossom more magnificent, lush and longer through Mairol blossom fertilizer.
Decisive for the effectiveness of the flower fertilizer is the increased proportion of high-quality phosphate, which is indispensable in the selected dosage for the willingness to flower, the desired color splendor and the rapid fruiting.
The addition of valuable potassium oxide supports the action of the phosphates and gives the plants their strength and resilience. The nitrogen content is reduced because plants need a low-nitrogen fertilizer during flowering and after that.
As with all Mairol products, a variety of trace elements, vitamins and phytohormones also round out the recipe of Mairol flower fertilizer.
Tips for using Mairol flower fertilizer
If the soil is dry, moisten the soil first
Mairol flower fertilizer is absorbed by the root system or by foliar application
Fertilize from March to October
Fertilize plants in boxes and pots once a week
Fertilize perennials and garden flowers as well as vegetables and garden fruits 2 times a week
Fertilize ornamental shrubs 2 times a month
Dosage: Mix 1-6 g fertilizer crystals with one liter of water
The Mairol quality guarantee for flower fertilizers
Mairol turbo-active effect: Selected chelated trace elements are immediately available to the plant.
With high-quality vitamins B1, B2, B6 and B7 biotin
Suitable for foliar application
For all blossoms and flowers
High yield: 1 liter of flower fertilizer is sufficient for 500 l irrigation water
Mairol fertilizers are 100% biodegradable
NPK fertilizer with magnesium oxide 6 + 20 + 30 (+ 2) with trace nutrients.
Here you find all Mairol fertilizers.
Kennzeichnung gemäß Verordnung (EG) Nr. 1272/2008 [CLP/GHS]
Sicherheitshinweise

Prävention

P261 Einatmen von Staub/Rauch/Gas/Nebel/Dampf/Aerosol vermeiden.
P262 Nicht in die Augen, auf die Haut oder auf die Kleidung gelangen lassen.
---