Mairol rhododendron fertilizer
Immediately ready for shipping


Delivery time 1 - 3 days inside Germany (

further

)

for deliveries abroad to the EU, Switzerland (CH) or Luxembourg (LU) within 3 - 5 days
for all other foreign deliveries within 7 - 14 days
Sliding-scale prices
: from 8,22 EUR to 10,65 EUR
500 ml
3
8,71 EUR
12
8,44 EUR
24
8,22 EUR
1000 ml
3
10,65 EUR
6
10,48 EUR
12
10,31 EUR
18
10,14 EUR
24
10,05 EUR
500 ml
8,99 EUR*


(Groundprice: 17,98 EUR pro Liter)

Product No.:

49070

/ EAN:

4009398900707

1000 ml
10,99 EUR*


(Groundprice: 10,99 EUR pro Liter)

Product No.: 49170 / EAN: 4009398901704
*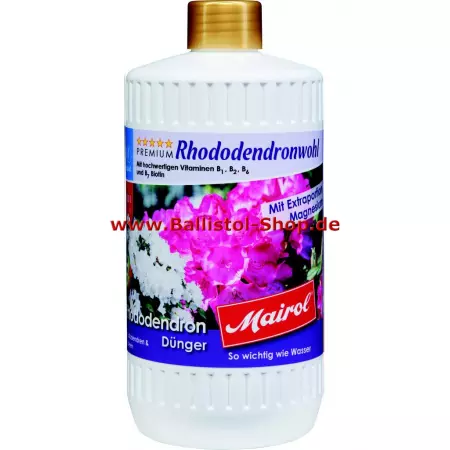 Mairol rhododendron fertilizer
Mairol Rhododendron well is a special fertilizer for rhododendrons, azaleas and heather plants with low pH. The Rhododendron liquid fertilizer is equally suitable for blueberries and cranberries, as these plants have the same nutritional needs. The rhododendron belongs to the moor-bed plants. These require an acidic and humus rich soil. The pH of Mairol rhododendron fertilizer is tailored to the acidity of these soils as well as the combination of nutrients. Mairol Rhododendron fertilizer is particularly suitable for: Rhododendrons, azaleas and all plants that prefer an acidic soil.
This is how rhododendrons feel good
Most rhododendrons tolerated sun, but little shade should at least fall to the rhododendrons during midday ideally.
Rhododendron watering
The rhododendron must watered regularly. Younger plants require more water than old plants. The flat rooted rhododendrons do not tolerate waterlogging. Hanging flower buds or scrolled leaves are a sign that it is an urgent need to watering.
The Mairol Quality Guarantee for Rhododendron Fertilizer
Mairol turbo-active effect: Selected chelated trace elements are immediately available to the plant.
NPK fertilizer 3 + 2 + 3
High yield: 1 liter of Rhododendron fertilizer is sufficient for 500 l irrigation water
Suitable for foliar application
High quality selected raw materials
For rhododendrons & azaleas
Fertilizer recommendation and dosage for Mairol rhododendron fertilizer
Fertilize rhododendrons from March to July once a week.
Dosage: 2 ml rhododendron fertilizer per liter of irrigation water.
Here you find all Mairol fertilizers.
---