Mairol Universal Fertilizer Liquid
Immediately ready for shipping


Delivery time 1 - 3 days inside Germany (

further

)

for deliveries abroad to the EU, Switzerland (CH) or Luxembourg (LU) within 3 - 5 days
for all other foreign deliveries within 7 - 14 days
Sliding-scale prices
: from 7,31 EUR to 70,48 EUR
500 ml
3
7,74 EUR
12
7,50 EUR
24
7,31 EUR
1000 ml
3
9,68 EUR
6
9,53 EUR
12
9,37 EUR
18
9,22 EUR
24
9,14 EUR
250 ml
3,99 EUR*


(Groundprice: 15,96 EUR pro Liter)

Product No.:

42025

/ EAN:

4009398200258

500 ml
7,99 EUR*


(Groundprice: 15,98 EUR pro Liter)

Product No.: 42050 / EAN: 4009398200500

1000 ml
9,99 EUR*


(Groundprice: 9,99 EUR pro Liter)

Product No.: 42100 / EAN: 4009398201002

10 liter
72,50 EUR*


(Groundprice: 7,25 EUR pro Liter)

Product No.: 42200 / EAN: 4009398202009
*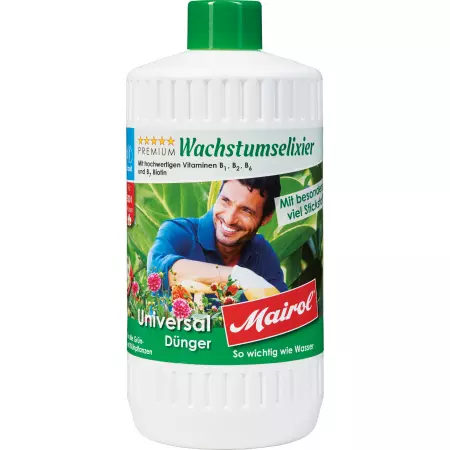 Mairol Universal Fertilizer Growth Elixir Liquid
Mairol Universal Fertilizer is a mineral full fertilizer, the ideal food base for all green and flowering plants in every phase of growth.
Its balanced composition of high-quality nutrients, trace elements, vitamins and phytohormones guarantee early maturation, healthy growth and abundant rooting.
The special nitrogen compounds are important components for cell formation and crucial for plant growth. Precious phosphates strengthen the flowering power, potassium gives the plants health and strength, iron chelate and magnesium oxide provide rich green and counteract the yellowing of the leaves.
Other trace elements such as boron, copper, manganese or molybdenum prevent the exhaustion of the soil, complete the recipe together with together with the activating vitamins of the B complex and specific phytohormones in an ideal way and protect the plants from diseases and pest infestation.
The Mairol quality guarantee for universal fertilizer
Mairol turbo-active effect: Selected chelated trace elements are immediately available to the plant
For all green and flowering plants
With high-quality vitamins B1, B2, B6 and B7 biotin
Suitable for foliar application
High yield: 1 liter of universal fertilizer is sufficient for 500 l irrigation water
NPK fertilizer 7 + 4.5 + 5
Fertilizer recommendation and dosage for Mairol universal fertilizer
Fertilize from March to October
Fertilize plants in boxes and pots once a week
Fertilize perennials and garden flowers as well as vegetables and garden fruits 2 times a week
Fertilize shrubs 2 times a month
Hydroponics fertilize all year round with a dosage of 1 ml per liter irrigation water
Dosage: 2 ml of universal fertilizer per liter of irrigation water
Here you find all Mairol fertilizers.
Kennzeichnung gemäß Verordnung (EG) Nr. 1272/2008 [CLP/GHS]
Sicherheitshinweise

Prävention

P261 Einatmen von Staub/Rauch/Gas/Nebel/Dampf/Aerosol vermeiden.
P262 Nicht in die Augen, auf die Haut oder auf die Kleidung gelangen lassen.
---