Mairol cactus fertilizer
Immediately ready for shipping


Delivery time 1 - 3 days inside Germany (

further

)

for deliveries abroad to the EU, Switzerland (CH) or Luxembourg (LU) within 3 - 5 days
for all other foreign deliveries within 7 - 14 days
Sliding-scale prices
: from 8,22 EUR to 8,71 EUR
500 ml
3
8,71 EUR
12
8,44 EUR
24
8,22 EUR
250 ml
3,99 EUR*


(Groundprice: 15,96 EUR pro Liter)

Product No.:

49022

/ EAN:

4009398900226

500 ml
8,99 EUR*


(Groundprice: 17,98 EUR pro Liter)

Product No.: 49052 / EAN: 4009398900523
*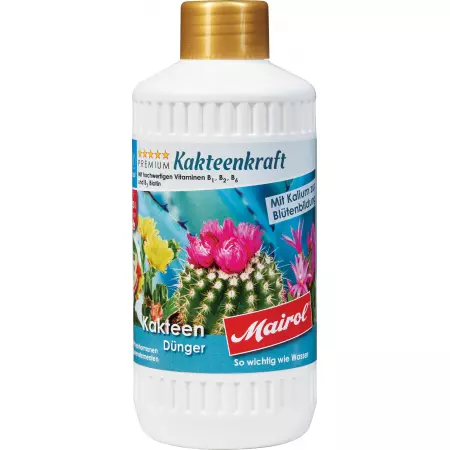 Mairol cactus fertilizer cactus power
Mairol Cactus Fertilizer contains all the necessary nutrients, trace elements, hormones and vitamins in the exact dosage that cacti and other water-storing succulents need for healthy growth and flowering.
The increased potassium content specifically promotes the strength of the cell structure and at the same time regulates the water balance of the cacti.
Tip for cacti
As a plant substrate for cacti and all succulents, it is best to use soil with a highly sand rate. Moderate pouring with low-calcium water is ideal for cacti.
A cool but bright location for the wintering of cacti stimulates the flowering willingness next year.
The Mairol quality guarantee for cacti
Mairol turbo-active effect: Selected chelated trace elements are immediately available to the plant.
With high-quality vitamins B1, B2, B6 and B7 biotin
With phytohormones and trace elements
For cacti and other water-storing succulents
High yield: 0.5 liter of cactus fertilizer is sufficient for 250 l irrigation water
NPK fertilizer 4 + 6 + 6.5
Fertilizer recommendation and dosage for Mairol cactus fertilizer
Fertilize twice a month from March to October.
Dosage: Add 2 ml of cactus fertilizer to 1 liter of irrigation water.
Here you find all Mairol fertilizers.
Kennzeichnung gemäß Verordnung (EG) Nr. 1272/2008 [CLP/GHS]
Sicherheitshinweise

Prävention

P261 Einatmen von Staub/Rauch/Gas/Nebel/Dampf/Aerosol vermeiden.
P262 Nicht in die Augen, auf die Haut oder auf die Kleidung gelangen lassen.
---