BioGreen Mineral Foliar Fertilizer
Immediately ready for shipping


Delivery time 1 - 3 days inside Germany (

further

)

for deliveries abroad to the EU, Switzerland (CH) or Luxembourg (LU) within 3 - 5 days
for all other foreign deliveries within 7 - 14 days
Sliding-scale prices
: from 16,01 EUR to 435,48 EUR
300 g
3
16,96 EUR
6
16,69 EUR
18
16,15 EUR
24
16,01 EUR
650 g
3
22,19 EUR
10
21,49 EUR
20
21,14 EUR
300 g
17,50 EUR*


(Groundprice: 58,33 EUR pro kg)

Product No.:

48030

/ EAN:

4009398800304

650 g
22,90 EUR*


(Groundprice: 35,23 EUR pro kg)

Product No.: 48865 / EAN: 4009398808652

15 kg
445,00 EUR*


(Groundprice: 29,67 EUR pro kg)

Product No.: 48115 / EAN: 4009398801158
*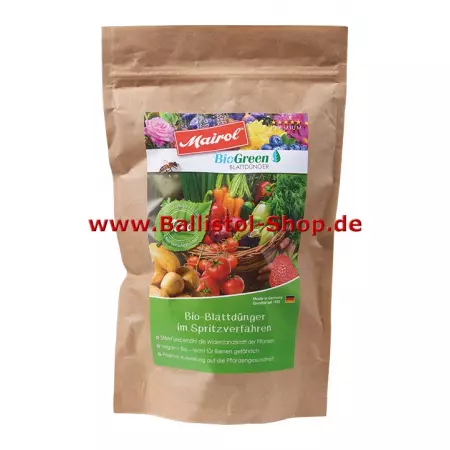 BioGreen Mineral Foliar Fertilizer
Mairol BioGreen is a specially formulated natural mineral special foliar fertilizer for spraying in conventional pressure sprayers. The fertilizer is absorbed exclusively to the leaves of the plants. In addition, Mairol BioGreen improves the soil.
Mairol BioGreen goes directly into the natural process of the plant, accelerates photosynthesis and improves the formation of chlorophyll. Mairol BioGreen thus increases the quality and quantity and strengthens the plant's immune system. The plants are stabilized by the contained minerals like silicon. Mairol BioGreen is purely organic, vegan and completely safe for bees.
Mairol BioGreen does not replace conventional fertilization. It is a pure foliar fertilizer with a particle size up to 11 ?m. This promotes healthy plant growth. In addition, the pH of the plant is adjusted to an ideal level of pH 6.4.
Mairol BioGreen has a systemic effect on the leaf. It strengthens and protects the plants. Lower evaporation of water through the pores is also a supportive effect.
Application of Mairol BioGreen
Approximately Mix 5 to 7 g with 1 liter of water. An appropriate measuring cup or measuring spoon is included. A coated measuring spoon corresponds to approx. 7 g. The fertilizer mixture must be stirred well until no sediment is visible. Fine misted spray directly on the leaves. Let the leaves only wet and not dripping wet. Start with the application in the growth phase from about three leaves. Partly, the natural minerals may leave small gray veil traces on the leaves for a few days.
The ideal application time is morning or evening. We recommend the treatment for the evening. The plants should not be exposed to strong sunlight for at least three hours. The application in the evening has an increased effect due to the morning dew.
Dosage by Mairol BioGreen
Fertilize from the beginning of the growth phase from three leaves at least once every 14 days.
For 5 liters of spray mixture you need 25 g to 35 g.
For 10 liters of spray mixture you need 50 g to 70 g.
At first use, we recommend the lower dosage. Watch the behavior of the leaves. The second treatment can then be done with the higher values.
Mairol quality guarantee
Direct effect over the leaf.
Strengthening the immune system.
Vegan, organic, not bees dangerous.
Safe in the application.
Contribution to a responsible approach to the environment.
Here you will find ready-to-use BioGreen foliar fertilizer in a hand sprayer.
---