Sponge square mixed pored
Product No.:

FRSE1

Immediately ready for shipping


Delivery time 1 - 3 days inside Germany (

further

)

for deliveries abroad to the EU, Switzerland (CH) or Luxembourg (LU) within 3 - 5 days
for all other foreign deliveries within 7 - 14 days
2,49 EUR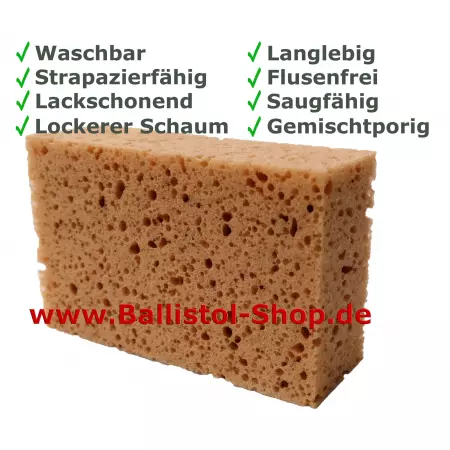 Sponge square mixed pored
Many products from the Ballistol range are applied with sponges. These include the Ballistol Universal Oil which is e.g. mixed in washing water for cars to care for and protect the paint. Read more about this in the Ballistol story under Ballistol on the car. But Kamofix the oven and grill cleaner and the bicycle cleaner and our wood sliding paste are applied with sponges. For all these applications we recommend our PU sponges.
The classic square PU sponge has different sized pores. This promotes foaming when applied with car shampoo and strengthens cleaning power. Especially for the large areas of this sponge is ideal because you often wipes faster and the foam would otherwise be a little too short. The sponge is mixed-pored, which provides through the large pores for a slightly looser and quickly dispersible foam.
Here you will find our fine-pored sponge.
Dimensions L x W x H: 16 x 10 x 5.5 cm
Dry weight: 21 g
Wet weight approx. 350 g
Pores: mixed pored
Shape: square
PU (Polyurethane) is the best material for making sponges that have the following properties:
Extremely durable and durable
Washable in the washing machine at high temperatures
High absorbency
lint-free
Paint gentle / not scratching
Very hard-wearing
Perfect foaming
PU sponges
The polyurethane foam is particularly soft and at the same time able to restore its original shape after compression and wring. This means that a PU sponge is extremely elastic and at the same time dimensionally stable. PU sponges are also the most frequently used sponges in the professional sector.
The PU sponge releases water more fluidly and faster than cellulose sponges and does not soak up oil and cleaners inside. This makes him responsible for the application of the o.g. Ballistol products particularly suitable.
The surface of PU sponges is beautifully smooth and lint-free, which makes them ideal for cleaning all surfaces. Our mixed-porous car sponge stores more than 15 times the dry weight and can be washed up to 95 °C in the washing machine. Even the tumble dryer easily survives this sponge.
The sponge is made of the material from which mattresses, pillows and many other products are made. Some cellulose cloths of well-known cloth manufacturers are coated with this material. Because of the high elasticity of the PU fiber, it is also used in textile fabrics to make this elastic.
The foam formation of PU sponges is exactly in the ideal range. Not too much, but enough to create the positive effect of the foam as a sliding surface and as a cleaning-active substance. Fine-pored PU sponges produce a slightly denser foam and large-pored a looser foam. Not least because of the properties mentioned here, PU sponges are also used successfully for hygienic body care.
The classic square PU sponge has different sized pores.
---