Microfiber cloth for glass set of 2
Manufacturer:

Ballistol

Product No.:

23736

EAN:

4017777237368

Immediately ready for shipping


Delivery time 1 - 3 days inside Germany (

further

)

for deliveries abroad to the EU, Switzerland (CH) or Luxembourg (LU) within 3 - 5 days
for all other foreign deliveries within 7 - 14 days

Sliding-scale prices
: from 13,80 EUR to 14,49 EUR
3 pcs
per 14,49 EUR
10 pcs
per 14,03 EUR
20 pcs
per 13,80 EUR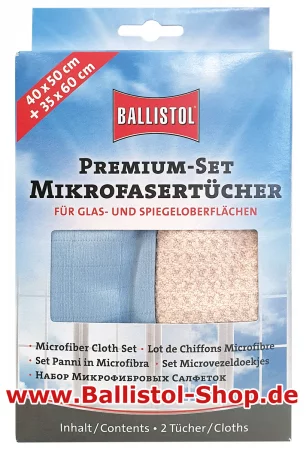 Microfiber cloth for glass set of 2
Two microfiber cloths for glass in a set. The perfect duo ideally complements each other in its properties. The Ballistol microfiber cloths allow almost effortless cleaning with streak-free results. A real professional set for glass cleaning.

Both cloths can also be used with Ballistol the glass cleaner.
Pre-cleaning cloth with waffle structure
The beige waffle microfiber cloth is perfect for pre-cleaning to pick up coarse dirt on window frames, windshields or shop windows.
Picks up dirt and holds it inside.
Gently transports dirt away from delicate surfaces.
Can be used wet, dry and with cleaner.
Weight: 250 g/m2
Size: 40 x 50 cm
Polishing cloth with silky surface feel
The blue fine polishing cloth immediately leaves a perfectly cleaned glass surface or mirror surface. No water stains are left behind.
Can be used wet, dry and with cleaner.
Weight: 290 g/m2
Size: 35 x 60 cm
General features of Ballistol microfiber cloths for glass cleaning and mirror cleaning
Set for professional cleaning of glass and mirror surfaces.
Two glass microfiber cloths – pre-cleaning cloth and polishing cloth
Ideal for vehicle, household or in the industry
High suction power
Streak-free shine without water spots
Good grip
Lint-free and silicone-free
Material: 80 % polyester and 20 % polyamide
Washable at 60 °C
Environmentally friendly packed in folding box
Contents: 1 set with two cloths
---