GunCer Gun Oil with Ceramic-Additives
Manufacturer:

Ballistol

Immediately ready for shipping


Delivery time 1 - 3 days inside Germany (

further

)

for deliveries abroad to the EU, Switzerland (CH) or Luxembourg (LU) within 3 - 5 days
for all other foreign deliveries within 7 - 14 days
Sliding-scale prices
: from 4,60 EUR to 183,31 EUR
65 ml liquid
3
6,50 EUR
6
6,40 EUR
12
6,31 EUR
18
6,21 EUR
24
6,16 EUR
50 ml spray
3
4,85 EUR
12
4,71 EUR
24
4,60 EUR
200 ml spray
3
16,41 EUR
6
16,17 EUR
12
15,93 EUR
18
15,69 EUR
24
15,56 EUR
5 liter
3
183,31 EUR
10
177,62 EUR
20
174,77 EUR
40
171,93 EUR
60
169,08 EUR
100
160,54 EUR
65 ml liquid
6,69 EUR*


(Groundprice: 102,92 EUR pro Liter)

Product No.:

22169

/ EAN:

4017777221695

50 ml spray
4,99 EUR*


(Groundprice: 99,80 EUR pro Liter)

Product No.: 22165 / EAN: 4017777221657

200 ml spray
16,90 EUR*


(Groundprice: 84,50 EUR pro Liter)

Product No.: 22166 / EAN: 4017777221664

5 liter
189,00 EUR*


(Groundprice: 37,06 EUR pro Liter)

Product No.: 22176 / EAN: 4017777221763
*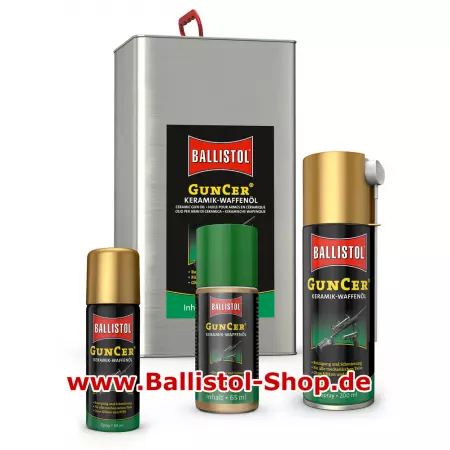 GunCer firearm tuning with ceramic additives
This high-tech gun oil from Ballistol was developed specifically for marksmen, hunters and law enforcement and is suitable for all rifles and handguns.
Ceramic additives ensure the function, the performance and the accuracy of the gun and reduce the wear.
The temperature range of this high-tech gun-oil ranges from -40° C to +210° C. By The small ceramic particles the emergency operating feature extends that even up to 1000° C. Emergency mode means that the ceramic particles take the "lubricating function" even if no more oil is present.
In addition GunCer offers superior corrosion protection, is water resistant, does not resinify and contains no additions of silicone and PTFE.
All attributes of GunCer:
For professional snipers, hunters and law enforcement, for rifles, shotguns or handguns
Special mixture of ceramic additives provide maximum performance and safe shot accuracy
Reduces friction and deterioration of the firearm
Smoothes roughness (under load, roughness at the friction points will be reduced by flowgliding and plastically deformation of the friction point, whichextremely reduces the friction in order to keep your firearm in best shape)
Reduced power losses while reloading Self-loading pistols and rifles (even with weak load ammunition), resulting in less interferences
Excellent corrosion protection, prevents fretting corrosion
Works in a temperature range from -40 °C to +210 °C
Ceramic additive even ensures lubrication up to +1000 ° C
Water resistant & non-resining
Without additions of silicon and PTFE

Further Information

Here you find all Gun oils at a glance


Here you find all chemical and manual barrel cleaner


Universal Gun care cloth for all surfaces and each chemial.
The spezial fabric of the gun care cloth is neutral against each surfaces and materials and extra absorbent.


Here you find all Products for gun care at a glance.


Get to know Ballistol Universal Oil – proven since 1904.

Oilers and Dispensers. Here we offer environmentally friendly alternatives to spray cans with propellant gas and also precision oil pens to dose your oil drop by drop.

GunCer gun oil with ceramic additives.
Kennzeichnung gemäß Verordnung (EG) Nr. 1272/2008 [CLP/GHS]


Signalwort: Gefahr

Gefahrenhinweise für Gesundheitsgefahren

H222 Extrem entzündbares Aerosol.
H229 Behälter steht unter Druck: Kann bei Erwärmung bersten.
H319 Verursacht schwere Augenreizung.

Sicherheitshinweise

Allgemeines

P102 Darf nicht in die Hände von Kindern gelangen.

Prävention

P210 Von Hitze, heißen Oberflächen, Funken, offenen Flammen sowie anderen Zündquellenarten fernhalten. Nicht rauchen.
P211 Nicht gegen offene Flamme oder andere Zündquelle sprühen
P251 Nicht durchstechen oder verbrennen, auch nicht nach Gebrauch.

Reaktion

P305 + P351 + P338 BEI KONTAKT MIT DEN AUGEN: Einige Minuten lang behutsam mit Wasser spülen. Eventuell vorhandene Kontaktlinsen nach Möglichkeit entfernen. Weiter spülen.
P337 + P313 Bei anhaltender Augenreizung: Ärztlichen Rat einholen/Ärztliche Hilfe hinzuziehen.

Lagerung

P410 + P412 Vor Sonnenbestrahlung schützen. Nicht Temperaturen über 50 °C/122 °F aussetzen

Entsorgung

P501 Inhalt/Behälter Recycling zuführen.
---