Grease Gun for all 400 g grease cartridges
Manufacturer:

Pressol

Product No.:

12250950

EAN:

4103810423246

Immediately ready for shipping


Delivery time 1 - 3 days inside Germany (

further

)

for deliveries abroad to the EU, Switzerland (CH) or Luxembourg (LU) within 3 - 5 days
for all other foreign deliveries within 7 - 14 days
57,95 EUR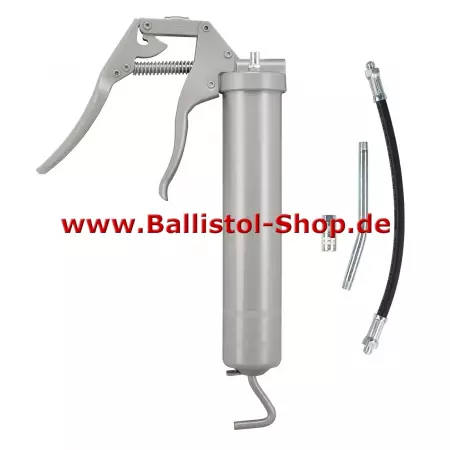 Grease Gun from Pressol ‐ One-Hand-Operated-Grease-Gun
This high-quality grease gun from Pressol processed fats up to consistency 2 (NLGI class according to DIN 51818). The grease gun takes all 400 gr cartridges according to DIN 1284. These are the standard cartridges, which are available everywhere (Euro-Cartridges). The pump piston ensures a high accuracy of fit and prevents from pseudo lubrication. Even after 5000 uses the extremely robust grease gun does not show performance reductions.
All properties of the grease gun at aglance:
operates with greases up to NLGI grade 2.
plunger with exactly fitting when using bulk grease or cartridge
acc. to DIN 1283
Pump piston with high accuracy of fit to the cylinder (no dummy apparent lubrication)
Performance unchanged after 5000 actuating cycles
Separate filling and ventilation valves on grease gun head
grease gun head, zinc die casting Z 410
sure grip handling due to deep band knurls
safe handle on the plunger rod
Plunger rod clamp on end cap enables manual pressure to be applied to spring to compress bulk grease, or to force in the plunger in damaged cartridges.
High-speed ventilation, by half a rotation of the grease gun tube
Technical Data:
grease gun connection, pressure-side: M 10 x 1
filling nipple and ventilating valve: M 10 x 1
capacity (cm³): 500
loading: 400 g grease cartridge, DIN 1284, grease gun filling system or bulk grease
diameter of piston (mm): 8
actuation grease piston: manual, by means of pressure grip
Delivery rate/stroke (cm³): 0,8
max. delivery pressure (bar): 260
burst pressure (system): 850
burst pressure (grease gun head): 1200
operation of plunger rod: with L-design handle
Sealing cover: loose
wall thickness of grease gun tube (mm): 1,0
colour: silver
Dimensions LxWxH (mm): 405 x 400 x 66
Weight (kg): 1.2
Speciification:
high pressure hose, M 10 x 1 male, 8 x 300 mm
Spout, straight, M 10 x 1, 150 mm
hydraulic coupler, M 10 x 1 female
Filling nipple (FN), M 10 x 1 male
Sales package, with Bar code

The Grease Gun is also available in an affordable Kit with Ballistol Multi Purpose Grease.


Here you find the Ballistol Multi Purpose Grease sseparately from 400 gr Cartridge up to 5-Kg Bucket.

At the Ballistol-Shop you get all Pressol brand products. If you are looking for a special product, please call us or send us an e-mail or fax. We advise you with pleasure. Here you will find the contact information.

Further Information


Get to know Ballistol Universal Oil – proven since 1904.

Here you will find all all Oiler and Dispenser. Here we offer environmentally friendly alternatives to spray cans with propellant gas and also precision oil pens to dose your oil drop by drop.
Grease Gun from Pressol – One-Hand-Operated-Grease-Gun.
---