Gun Stock oil from Scherell Schaftol Classic dark
Manufacturer:

Ballistol

Immediately ready for shipping


Delivery time 1 - 3 days inside Germany (

further

)

for deliveries abroad to the EU, Switzerland (CH) or Luxembourg (LU) within 3 - 5 days
for all other foreign deliveries within 7 - 14 days
Sliding-scale prices
: from 6,41 EUR to 224,66 EUR
50 ml with sponge
3
7,19 EUR
10
7,00 EUR
20
6,90 EUR
40
6,80 EUR
60
6,70 EUR
100
6,41 EUR
500 ml
3
31,62 EUR
10
30,79 EUR
20
30,38 EUR
40
29,96 EUR
60
29,55 EUR
100
28,30 EUR
5 liter
3
224,66 EUR
10
220,32 EUR
20
218,15 EUR
40
215,98 EUR
60
213,81 EUR
100
207,31 EUR
50 ml with sponge
7,39 EUR*


(Groundprice: 147,80 EUR pro Liter)

Product No.:

23816

/ EAN:

4017777238167

500 ml
32,45 EUR*


(Groundprice: 64,90 EUR pro Liter)

Product No.: 23833 / EAN: 4017777238334

5 liter
229,00 EUR*


(Groundprice: 45,80 EUR pro Liter)

Product No.: 23843 / EAN: 4017777238433
*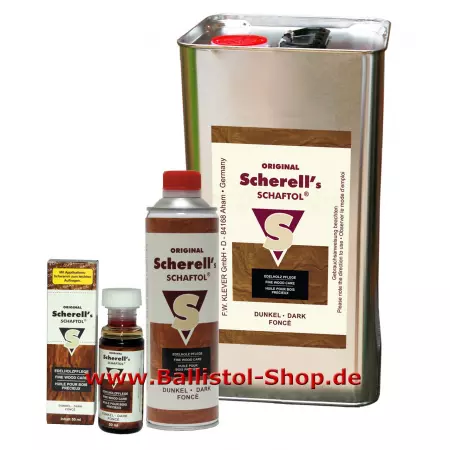 Gun Stock oil from Scherell Schaftol Classic dark
Light, red brown, dark brown, extra dark and Premium Gold
Every gun stock needs regular care. Our top quality special gun stock oil optimally conserves open pore wood, and thanks to the Gun Stock Oil anti damp complex, protects it against weathering influences of all kind, particularly from becoming stained or mottled. Only a small amount is enough to achieve the required success. Schaftol Gun Stock Oil is only manufactured using high quality, pure, natural products according to an age old tradition and the latest techniques. Schaftol Gun Stock Oil is also ideal for the treatment, maintenance and the care of other woods, such as furniture or antiques.
Schaftol ® Nothing but the Original
Schaftol ® originates from the house of "Jagd- und Sportwaffenfabrik Scherell & Co" ‐ founded in 1834 ‐ and was developed in the twenties of the last century by Oswald Scherell, Berlin, the leading Prussian gunsmith of that time, on the basis of his daily practical experience.
Schaftol ® has for the many decades since then privileged acceptance by the large community of German and international hunters, by the owners of high-quality weapons and experts for treating and processing fine woods. It is by tradition and by conviction for the best results that Schaftol ® has been successful over the last generations.
The reason underlying this acceptance certainly is the fact that Schaftol ® consists of highly refined natural products of the very finest quality.
Schaftol ® today certainly is the leading European product for gunstock conservation with best international success and acceptance.
Our recommandation:
Schaftol ® is also ideally suited for treating other wooden objects, especially fine and precious woods, antiques and furniture.
Polish stock wood only with the best steel wool:

Did you know that valuable stock woods can be polished glossy or high glossy with very fine steel wool? The processing of stock wood with fine steel wool leads to first class results. If you are working in a humid environment, a stainless steel wool is possibly of interest to you.

Schaftol gun stock oil is available in the following sizes and colors:
50 ml bottle with sponge
75 ml bottle
500 ml tin
5 l canister
Colors:
Here you find all sorts and sizes of Schaftol gun stock oils.

Further Information

Here you find all Gun oils at a glance


Here you find all chemical and manual barrel cleaner


Universal Gun care cloth for all surfaces and each chemial.
The spezial fabric of the gun care cloth is neutral against each surfaces and materials and extra absorbent.


Here you find all Products for gun care at a glance.


Get to know Ballistol Universal Oil – proven since 1904.

Oilers and Dispensers. Here we offer environmentally friendly alternatives to spray cans with propellant gas and also precision oil pens to dose your oil drop by drop.

Dark gun stock oil from Scherell.
---