Waterless Wash
Manufacturer:

Ballistol

Immediately ready for shipping


Delivery time 1 - 3 days inside Germany (

further

)

for deliveries abroad to the EU, Switzerland (CH) or Luxembourg (LU) within 3 - 5 days
for all other foreign deliveries within 7 - 14 days
Sliding-scale prices
: from 18,43 EUR to 74,95 EUR
750 ml hand-atomizer
3
19,42 EUR
6
19,14 EUR
12
18,86 EUR
18
18,58 EUR
24
18,43 EUR
5 liter canister
3
74,95 EUR
10
72,96 EUR
750 ml hand-atomizer
19,99 EUR*


(Groundprice: 26,65 EUR pro Liter)

Product No.:

25086

/ EAN:

4017777250862

5 liter canister
76,95 EUR*


(Groundprice: 15,39 EUR pro Liter)

Product No.: 25439
*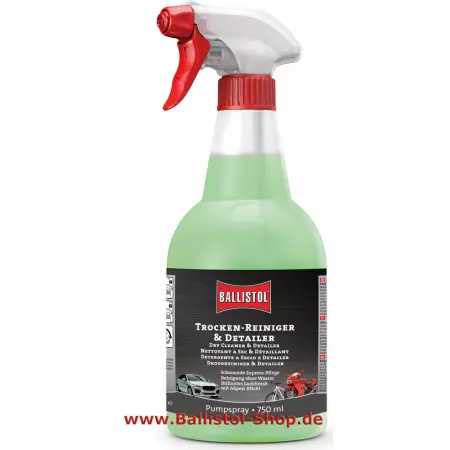 Waterless Wash
The quick cleaning and varnish care for all types of vehicles and two-wheeler. Dissolves light and medium-sized dirt such as splashes of dirt, pollen, limescale and rainwater stains as well as fingerprints. Can be used on paint, chrome and plastic surfaces.
Advantages:
Gentle express care
Cleaning without water
Brilliant lacquer finish
Excellent roll-off effect
Gives an extremely deep shine through high-quality polymers and waxes
Refreshing colors for plastics
Refreshes existing wax treatment
Also suitable for foil wrapping (partial and complete wrapping)
Tip: For a perfect lacquer finish after washing, spray onto the still damp surface and then dry completely with a |microfiber drying cloth.
Using the waterless wash
Apply evenly to the surface and dispense with a soft cotton cloth or short-pile microfiber cloth. Then use a dry, soft deep-pile microfiber cloth to wipe up excess product residues.
Note: Do not use in the blazing sun or on heated surfaces. Do not let it dry out. Protect the contents from frost.
Material compatibility: chrome, plastic, varnish.
Contents: 750 ml in a hand atomizer or 5 liter in a canister.
---