Trap Oil
Manufacturer:

Ballistol

Product No.:

23900

EAN:

4017777239003

Content: 65 ml

Immediately ready for shipping


Delivery time 1 - 3 days inside Germany (

further

)

for deliveries abroad to the EU, Switzerland (CH) or Luxembourg (LU) within 3 - 5 days
for all other foreign deliveries within 7 - 14 days
6,79 EUR
(Groundprice:

104,46 EUR per Liter

)


Sliding-scale prices
: from 6,24 EUR to 6,59 EUR
3 pcs
per 6,59 EUR
6 pcs
per 6,49 EUR
12 pcs
per 6,39 EUR
18 pcs
per 6,29 EUR
24 pcs
per 6,24 EUR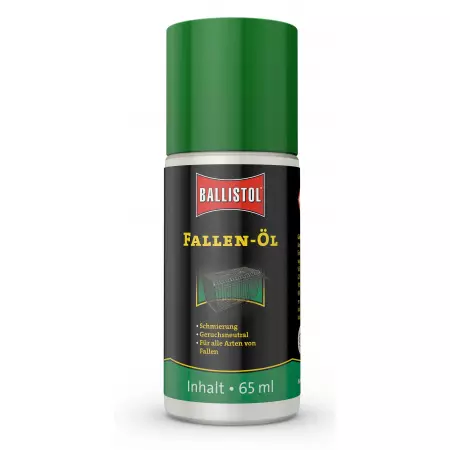 Trap oil odorless
Ballistol Trap Oil is odorless, environmentally neutral and protects against corrosion and other damage caused by environmental influences.
Animal traps which are used for trap-hunting must be oiled from time to time.
Requirements for trap oil:
Only with a completely odorless oil, it is possible that animals walk into the trap. Also the trap oil should not be harmful to the trapped animal. At the same time it has to lubricate, protect against corrosion and other environmental disturbances and should lubricate the movable parts of the trap has to prevent squeaking noises.
Properties of Ballistol oil case:
Case of oil Ballistol is completely odorless, corresponds to the food regulations, is completely biodegradable and do not pollute the ground or groundwater. Moreover Ballistol oil trap oil is completely harmless, if it is licked or swallowed by the trapped animal.
Ballistol trap oil offers also first class lubrication, protects against corrosion and prevents squeaking and creaking. Ballistol trap oil is suitable for all kinds of catching devices outdoors but also indoors.
The trap oil works reliably in temperatures ranging from -50 to +150 °C.

Further Information


Get to know Ballistol Universal Oil – proven since 1904.

Here you will find all all Oiler and Dispenser. Here we offer environmentally friendly alternatives to spray cans with propellant gas and also precision oil pens to dose your oil drop by drop.
Trap Oil.
---