Mairol boxwood fertilizer
Immediately ready for shipping


Delivery time 1 - 3 days inside Germany (

further

)

for deliveries abroad to the EU, Switzerland (CH) or Luxembourg (LU) within 3 - 5 days
for all other foreign deliveries within 7 - 14 days
Sliding-scale prices
: from 7,31 EUR to 9,68 EUR
500 ml
3
7,74 EUR
12
7,50 EUR
24
7,31 EUR
1000 ml
3
9,68 EUR
6
9,53 EUR
12
9,37 EUR
18
9,22 EUR
24
9,14 EUR
500 ml
7,99 EUR*


(Groundprice: 15,98 EUR pro Liter)

Product No.:

49055

/ EAN:

4009398900554

1000 ml
9,99 EUR*


(Groundprice: 9,99 EUR pro Liter)

Product No.: 49155 / EAN: 4009398901551
*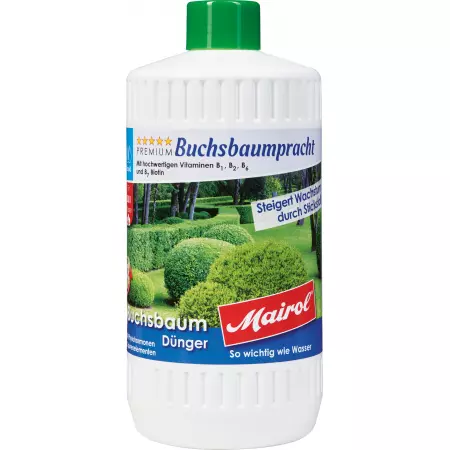 Mairol boxwood fertilizer boxwood splendor
With its specific nutrient combination, Mairol Boxwood Fertilizer meets all the requirements that are important for the uniform growth and dense foliage of decorative boxwood.
The targeted addition of magnesium oxide and iron chelate also ensures a permanently rich green of the leaves of the boxwood.
This is how the boxwood feels good
When planting the boxwood in a vessel, always ensure that sufficient drainage is possible on the ground.
To stimulate new shoots on the boxwood, cut off all dead branches in spring.
Before the end of the growth phase in late summer, a second pruning promotes the formation of new shoots and the growth density.
The Mairol quality guarantee for boxwood fertilizer
Mairol turbo-active effect: Selected chelated trace elements are immediately available to the plant.
With high-quality vitamins B1, B2, B6 and B7 biotin
With phytohormones & trace elements
Also suitable for hedges and shrubs
High yield: 1 liter of boxwood fertilizer is sufficient for 500 l irrigation water
NPK fertilizer 11 + 3 + 3.5
Fertilizer recommendation and dosage for Mairol boxwood fertilizer
Fertilize twice a week from April to September.
Dosage: 2 ml boxwood fertilizer per liter of irrigation water.
Here you find all Mairol fertilizers.
Kennzeichnung gemäß Verordnung (EG) Nr. 1272/2008 [CLP/GHS]
Sicherheitshinweise

Prävention

P261 Einatmen von Staub/Rauch/Gas/Nebel/Dampf/Aerosol vermeiden.
P262 Nicht in die Augen, auf die Haut oder auf die Kleidung gelangen lassen.
---