BioAlgae Universal Plant Vital Bio Algae Extract
Product No.:

48710

EAN:

4009398807105

Content: 1 Liter

Immediately ready for shipping


Delivery time 1 - 3 days inside Germany (

further

)

for deliveries abroad to the EU, Switzerland (CH) or Luxembourg (LU) within 3 - 5 days
for all other foreign deliveries within 7 - 14 days
10,99 EUR
(Groundprice:

10,99 EUR per Liter

)


Sliding-scale prices
: from 10,05 EUR to 10,65 EUR
3 pcs
per 10,65 EUR
6 pcs
per 10,48 EUR
12 pcs
per 10,31 EUR
18 pcs
per 10,14 EUR
24 pcs
per 10,05 EUR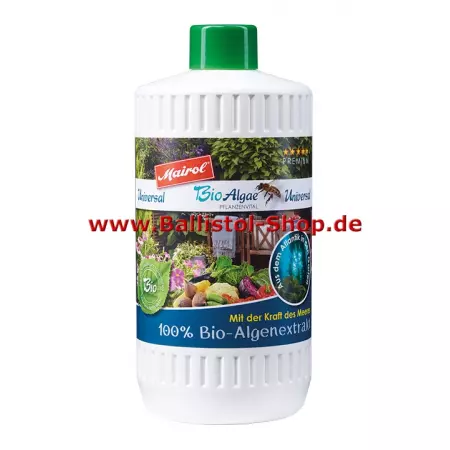 BioAlgae Universal Plant Vital Bio Algae Extract
Mairol BioAlgae consists of 100% organic algae extract and is used for traditional strengthening of horticultural plants.
Mairol Plant Vital vitalises the plants biologically by algae. BioAlgae brings the power of the ocean from the Atlantic into the garden. Mairol plant vital is obtained from fresh renewable seaweed. The application accelerates the photosynthesis of plants and stimulates their activity in the soil.
Mairol Plant Vital provides the plants with a variety of microelements and nutrients. Algae contain nitrogen, potassium salts, phosphorus, trace elements and magnesium. Mairol BioAlgae is odorless and has a green natural coloring. Mairol Pflanzenvital provides the plants in a natural way.
Mairol quality guarantee
Improves the nutrient content of the plants.
Protects and strengthens the plants from environmental influences.
Promotes healthy growth and vigorous rooting.
Natural, environmentally friendly ingredients.
Can be soak up over the leaves.
Content: 1000ml
---